699 Views
Breaker Tripping With Nothing Plugged In (Why & How to Fix)
February 3rd, 2022 11:20 PM
Share
We're committed to finding, researching, and recommending the best products. We earn commissions from purchases you make using links in our articles. Learn more here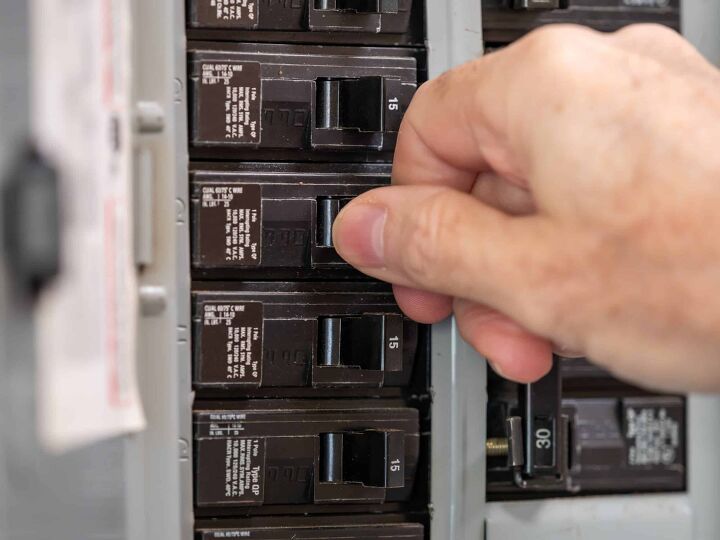 When we think of a circuit breaker that keeps tripping, common wisdom would be that you're dealing with a home that's using up too much energy. So, if it's happening to you, you might unplug some stuff. But, sometimes, the breaker just will keep tripping regardless of how much stuff you unplug. Clearly, it's not energy consumption anymore. So, what gives?
A circuit breaker can trip when there is nothing plugged in if there is a ground fault or the circuit breaker is outdated. Damaged wires within the circuit breaker can cause it to keep tripping for no reason. The average circuit breaker lasts for 35 years, and they can trip with nothing plugged in when they are over 30 years old.
Circuit breakers are necessary to prevent electrical problems, expensive damage, and most importantly fires. It can be alarming when your circuit breaker keeps tripping when there is nothing plugged in. Follow along as we explore what it means when your circuit breaker trips for no apparent reason.
Do You Need to Hire an Electrician?
Get free, zero-commitment quotes from pro contractors near you.
Why Would A Circuit Breaker Trip Without Anything Plugged In?
A breaker is meant to break electrical currents due to an overload, so it really shouldn't be breaking without anything plugged in. This means that you might be dealing with an electrical issue regarding the breaker. This can be potentially dangerous, so it's important to troubleshoot this as soon as possible, and call an electrician to fix it.
Troubleshooting Your Circuit Breaker
So, you already know that you've got a breaker that's not doing what it's supposed to do. What should you do now? The answer, clearly, is that you are gonna have to troubleshoot your circuit breaker. Here's how to do it:
Before anything else, check to see that you don't have anything that could be causing the breaker to trip. If your breaker's tripping is related to two rooms, check to see that it's not your DJ equipment or extra-large entertainment set up in the next room that's causing it.
 Check the input wires for damage. If you notice that they're frayed or have reason to believe that their movement is causing the breaks, call an electrician. You need to get the input wires replaced or fixed.
Reset the breaker. Remove all connected items in your room from their plugs and reset your breaker. If it breaks again, then there is an issue that you have to fix.
Keep an eye out for signs of a short circuit, fuse issue, or ground fault. When you're dealing with a short circuit, you might notice a burn mark or a smell near an outlet. With a ground fault break or fuse issue, you may have a problem with wiring overheating or being exposed to water. If you believe you have an issue with this, give an electrician a call.
If all else fails, you have a faulty breaker. Even circuit breakers will eventually need to be replaced. They will eventually go bad. If you can't find anything else wrong, it's time to get a new circuit breaker. If you've had your circuit breaker for a very long time, it's possible that your breaker just ran its course and needs to be replaced.
However, there are several problems that range from a ground fault to an outdated circuit breaker that you need to consider. Let's take a look a the most common reasons that your circuit breaker keeps tripping when nothing is plugged in.
Ground Fault
A ground fault, or earth fault, is when an active wire touches the earth. Ground faults occur when a wire and the ground interact and overload the circuit breaker with the current. There is no resistance or restrictions with the earth, so an unrestricted flow of current goes through the wire and to the circuit breaker.
A ground fault is similar to a short circuit because the current bypasses the circuit wiring. The reaction from a ground fault is immediate, and the circuit will immediately flow uncontrollably. Between the lack of resistance and increased current flow, a ground fault can trip your circuit breaker and potentially damage it permanently.
Electricians treat a ground fault differently than a short circuit, but both problems require a fix. Ground faults are dangerous to fix or come into contact with, and there is potential for electrical shock.
Outdated Circuit Breaker
Circuit breakers have a lifespan just like any other key electrical fixture in your home. The average circuit breaker lasts for 35 years, but they can last for up to 40 years. You can generally tell that your circuit breaker is outdated when it acts up, and old breakers often trip when nothing is plugged in.
Worn breakers are less conductive and reliable, and they are often difficult or impossible to reset. Old circuit breakers produce a distinct burning smell that can be alarming. The voltage and current strength on an outdated circuit breaker are unpredictable and fluctuate wildly.
If your circuit breaker is nearly 30 years old and often feels hot, it is likely outdated. Replace your old circuit breaker if it frequently trips with nothing plugged in after you reset it
Old House
Old homes have different wiring configurations than modern homes, and that can affect your circuit breaker. Generally, old homes have circuit breakers that work via a single circuit. A single circuit is not enough to keep up with the electrical demands of modern homes.
Homes that are 40-50 years old or older likely have single circuit units that affect multiple outlets and even rooms. Your circuit breaker can trip even if there is nothing plugged in if you have an old home with outdated wiring and an underpowered single circuit system. The only solution, in this case, is to replace your circuit breaker and update your wiring.
Short Circuit
Similar to a ground fault, a short circuit occurs when the electrical flow goes through a short path that it wasn't supposed to. A short circuit can easily occur if the insulation on a wire is damaged and leaves them exposed. The most common cause for a short circuit is when multiple wires become exposed and touch each other.
The current essentially takes a shortcut instead of going through the circuit wiring. Short circuits cause a massive spike in current flow that overloads the circuit breaker and causes it to trip. It is good that your circuit breaker trips during a short circuit because that can prevent expensive and harmful damage.
Lamps, electric space heaters, and plug-in appliances commonly cause short circuits. Luckily, modern devices generally have well-insulated wires to prevent short circuits. However, a short circuit can happen when nothing is plugged in because the breaker's wires themselves can cause a short.
Damaged Wires
The wires inside of and connected to a circuit breaker are well-protected, but they can still succumb to damage. Wires are covered with insulation that can melt over time and leave them vulnerable to damage. You should be concerned if you have a damaged input wire because that can be dangerous to touch or work with.
A damaged wire can cause a current leak and your circuit breaker will trip when it recognizes it. This is a safety precaution and prevents the current from going where it shouldn't and causing a bigger problem. It is ideal to hire a professional electrician to repair damaged wires in your circuit breaker because it is complicated and potentially dangerous.
How Much Does It Cost To Replace a Circuit Breaker?
It costs an average of $1,250 to replace an entire circuit breaker box. However, you can expect to pay $1,800 or more for an upgraded circuit breaker box, but it may be worth the added safety. Replacing single switches on a circuit breaker is much cheaper and that generally costs $45 per switch.
You can spend as little as $205 to replace an AFCI circuit breaker in some cases, but it can cost $280 or more. It is worth the cost to replace a circuit breaker because it is difficult and dangerous to replace one without professional help. However, you need to refer to local building codes if you replace your circuit breaker as a DIY project to save money.
Can You Replace A Circuit Breaker On Your Own?
Technically, most people would agree that this could be a DIY job. However, I'm a little skeptical. With electricity, working on it without much knowledge of what you're doing is a lot like trying to shoot an arrow up in the air and hope that it won't hit anything. You might be fine, but you might not be.
If you choose to go the DIY way, just make sure that your local building codes allow you to do this. Many cities now require all electrical work to be done through the use of a certified electrician. So, if you aren't sure, check with your local municipal office to find out whether DIY is an option.
Do You Need to Hire an Electrician?
Get free, zero-commitment quotes from pro contractors near you.
---
Related Questions
How long do circuit breakers last?
Circuit breakers last for an average of 35 years, but they can last for up to 40 years. You can tell that you need to replace your circuit breaker if it won't hold a reset or you notice a burning smell coming from it. Generally, circuit breakers become less conductive when they are old and trip more often.
Why does the circuit breaker trip when lightning strikes
A circuit breaker can trip when lightning strikes because it detects the thousands of amps that come from it. The current from a lightning strike is overwhelming and would overload your home's electrical grid. It can trip even if the lighting doesn't touch your house because a circuit breaker can detect the current in the earth or air.

Ossiana Tepfenhart
Ossiana Tepfenhart is an expert writer, focusing on interior design and general home tips. Writing is her life, and it's what she does best. Her interests include art and real estate investments.
More by Ossiana Tepfenhart
Published August 30th, 2020 11:16 AM