105 Views
Can You Use An Impact Driver as a Drill?
July 14th, 2021 6:18 PM
Share
We're committed to finding, researching, and recommending the best products. We earn commissions from purchases you make using links in our articles. Learn more here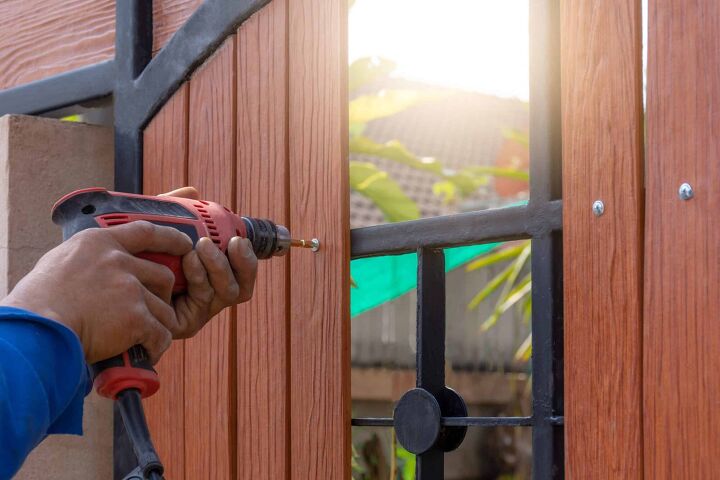 Impact drivers are one of the most common tools in the DIYer's toolbox. Impact drivers are useful, multifunctional, and designed to produce maximum torque. If you have ever installed a second layer of subfloor you will be thankful for them.
They have become quite popular in recent years and are also typically far smaller than drill drivers. Thus, you probably wonder, can an impact driver simply fill that drill driver's space in your toolbox?
You can use an impact driver as a drill if you use a ¼" hex shank drill bit. Pull back the locking mechanism, insert the hex shank, and lock it in place. Use the impact driver slowly at first because the torque is stronger than on a standard drill.
What is an Impact Driver?
Impact drivers use rotational force which builds up by rotating an internal hammer. This hammer compresses a spring as it rotates. The spring will release roughly every half turn striking and rotating the business end of the impact.
Impact drivers use 1/4″ bits to fit their shank into their locking chuck. So, make sure the drill bits are designed to be used with impact drivers.
The torque applied by an impact driver is far higher than a drill driver. Therefore, it may snap regular drill bits. Generally, you should be able to find these at hardware stores
How to Use an Impact Driver as a Drill
Using an impact driver as a drill is easy, just follow these steps:
Choose a drill bit with a 1/4 "hex shank; make sure the bit is impact rated.
Draw the locking mechanism on the impact's chuck back. Then, insert the hex shank into it. Next, release to lock it in place.
Place the drill bit where you intend to drill.
Slowly draw the trigger at first until you find the best speed to drill. Remember, the torque is far greater. Therefore, it may surprise you how fast it drills depending on the material.
Pay attention to where to stop. Otherwise, the impact driver may drill too quickly. And, if it does, you may drill deeper than you intended.
Disadvantages of Drilling With an Impact Driver
Impact drivers have incredibly high torque, often 3 times that of a drill driver. This is great for driving screws through difficult material. Generally, it works without stressing your wrist with constant rotation regardless of difficulty like a drill driver.
The biggest problem with this torque is the lack of a clutch. The clutch allows drill drivers to determine how much force to apply before they disconnect the bit from the motor. Especially on soft surfaces, this allows a drill driver to disconnect before it damages soft materials.
The selection of drill bits for impact drivers is less than that for drill drivers. Additionally, the hex shank bits do not fit as tightly as the compression bits in regular drills. Consequently, the wobble can make for rougher holes.
Advantages of Drilling With an Impact Driver
Impact Drivers are more compact, meaning less space consumed in your toolbox. Also, they work well in cramped places. Additionally, impact drivers are designed for faster switching of bits; hence, this makes your work faster.
Drills are designed to compress their chucks onto bits requiring tightening. In contrast, impact drivers allow switching through a locking mechanism.
They are not as flexible on all materials. However, it is easier to use an impact driver on certain harder materials. This is true, especially if the roughness of the hole is not a concern.
Impact drivers put much less stress on your wrist than drills. Thus, this makes for a much more pleasant experience regardless of the quality of the drilling. Namely, it does this by delivering hammer-like rotational blows to the attachment in rapid succession.
A few varieties of impact drivers do have a clutch system. But, this occurs in a minority of expensive types. These drivers are also quite bulky and disable the impacting feature when the clutch is engaged.
Advantages of Dedicated Drills
Dedicated drills have numerous advantages when it comes to drilling these include:
Multiple speed options: Drill drivers typically have several speed options which allow you to avoid drilling too deep on softer materials.
Clutch assembly: Dedicated drills typically have a clutch assembly that allows its chuck to disengage from the motor at a power level the user can set.
Continuous rotations: The user can depend on a drill to rotate at a relatively constant speed which allows for a predictable and cleaner hole.
Auto centering chuck: The chuck on drill driver is typically a 3 jaw self-centering variety. The chucks use compression to pin the bit in place in the center of the chuck. Though time-consuming, these chucks are effective at preventing wobble and achieving a neat hole.
Can accept hex bits: Drill drivers can accept most bits including those made for impact drivers.
Comparing Features
To help you understand the difference between drill drivers and impact drivers here is a handy chart:
| | | |
| --- | --- | --- |
| Features | Drill Driver | Impact Driver |
| Multiple speeds | Yes | Few speed options if any |
| Clutch | Yes | No |
| High Torque | No | Yes |
| Noise Level | Low | High |
| Compact | No | Yes |
Choosing the Best Impact Driver
Impact drivers typically run on battery power. These batteries are generally available in three sizes: 12, 18, and 20 volts. In general, if you need more power, choose the higher voltage as this provides more torque.
Higher power would be necessary for driving bigger fasteners. However, consider less power if it will do the job. Due to size, you will find the 12- or 18-volt models more convenient.
Dewalt is known to make a good impact driver, but it is expensive. Chiefly, your decision should depend heavily on how often and how hard you use your impact driver.
Brushed vs. Brushless Motor
One major consideration you're going to have to make when choosing an impact driver is deciding between a brushed and brushless motor. Due to the friction that is created during operation, a brushed motor is slightly less efficient than the alternative.
With that said, brushless motors do not use friction to operate, providing a host of benefits: more battery run time, more power, less heat generated while in use, longer battery life, and precision power and motor control.
Because of the friction that is produced in operation, the components of a brushed impact driver will occasionally need to be replaced. However, this means that the advanced designed of brushless comes at a much higher cost.
If your tools tend to be used regularly, it may be worth your while to invest in a brushless impact driver. But, if you only take out your tool box for the occasional DIY project, brushed tools are inexpensive and can still serve you well.
Impact Driver Safety
One of the most important aspects of learning how to use an impact driver is understanding safe operation. Even if you consider yourself pretty familiar with power tools, you should never ignore recommended safety guidelines. A simple careless action could result in serious injury very quickly. Here are some tips for staying safe when using an impact driver:
When working with any power tool, always protect your ears, lungs, and eyes.
Wear a dust mask to protect your lungs, especially if the operation is dusty.
Exposure to loud noises can result in hearing loss, so be sure to wear necessary ear protection when impact drilling.
Wearing eye proper eye protection will reduce your risk of injury caused by flying debris.
If not handled properly, battery packs can be dangerous. Follow the guidelines outlined by the manufacturer for battery and charging instructions.
Never screw where there may be hidden wiring behind a surface.
Always hold the impact driver only using the insulated grip.
---
Related Questions
Is a Hammer Drill the Same Thing as an Impact Driver?
These two tools operate very differently. A hammer drill has a back and forth motion. Whereas, an impact driver tends to move in a rotary fashion and works very quickly. While the hammer drill has a body that is very similar to an impact drill or power driver, they are used for different purposes.A hammer drill can work in virtually any material. They are most commonly used for drilling into concrete and masonry. The power is in the hammering action, as the force is applied directly to the bit. Additionally, it adapts its power level to the job and can accept a wider variety of bits.However, the hammering motion on a hammer drill can be shut off and the tool operates much like a standard drill. This function can be very useful if you're unsure of the material you will be drilling into. With that said, a hammer drill is heavier and more expensive than a standard drill, making it not particularly ideal for light jobs around the home.
Can I Use an Impact Driver for Concrete?
You should not use an impact driver for drilling in concrete. Notably, impact drivers do not work well in such a hard material. Whereas, a hammer drill works well in concrete.
Our Final Take
Impact drivers are not dedicated to drills. So, they do not have all the features a dedicated drill driver does to achieve professional-looking results. However, if you need to drill through tough material or lack a drill, an impact driver will work.

Lisa Borga
I am a writer who enjoys working on home improvement projects. My husband was in the navy, so we moved frequently. This gave me many opportunities to fix up new places. In my spare time, I enjoy reading mysteries and hiking.
More by Lisa Borga
Published August 4th, 2020 3:13 AM