450 Views
Can You Put Heavy Furniture on Vinyl Plank Flooring?
October 12th, 2021 1:42 PM
Share
We're committed to finding, researching, and recommending the best products. We earn commissions from purchases you make using links in our articles. Learn more here
Vinyl plank flooring is cheap and easy to install, but because it isn't too durable it can be daunting to place heavy furniture on it. Luckily, it is possible to put heavy furniture on vinyl plank flooring if you don't exceed 600 pounds. Whether it be safety precautions, floor protection, or maximum weight, let's take a look at what you should consider when you put heavy furniture on vinyl plank flooring.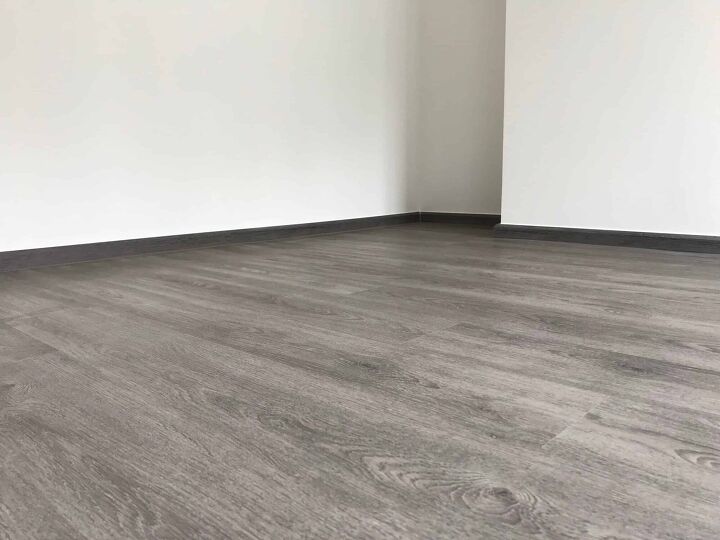 You may or may not be aware of the heavy price tag associated with vinyl plank flooring. It is because of this fact that most homeowners will want to go to extra lengths to ensure that the flooring is protected and can last as long as possible. You may find yourself asking, "Can you put heavy furniture on vinyl plank flooring?"
In short, yes, you can place heavy furniture on vinyl flooring but it does require that you implement some additional protection in order to prevent damage. Heavy furniture can very easily leave scuffs, marks and cause harm to your floors from the furniture legs.
Although, vinyl plank flooring is known to be a long-lasting material it's essential that it is properly protected so that you can enjoy your investment for many years. We'll explore exactly what you can do to keep your vinyl floors looking fresh and help avoid any possible destruction caused by heavy furniture.
Do You Need to Hire a Flooring Contractor?
Get free, zero-commitment quotes from pro contractors near you.
What is Vinyl Flooring?
Vinyl planks are made from synthetic material consisting of polyvinyl chloride and a plasticizer agent. It's available for purchase in strips and is made to resemble hardwood. Its design makes it a desirable alternative to hardwood flooring and it is just barely distinguishable from the real thing.
Vinyl flooring can also be found in the form of tiles, constructed to resemble traditional tile flooring. Additionally, vinyl plank flooring is a cost-effective choice for homeowners and renovators who want the hardwood, or tile, look without the cost and difficult install.
Can You Put Heavy Furniture on Vinyl Plank Flooring?
Vinyl plank flooring has a reputation for being both long lasting and durable. When it comes to heavy pieces of furniture, you can place them directly on vinyl plank flooring. However, you'll want to use felt furniture pads on the legs to prevent scratching.
Never use protective pads made of rubber, as rubber can stain the surface of the vinyl. For exceptionally heavy items, such as appliances, use a large surface floor protector that is non-staining. Additionally, most vinyl flooring types can be placed directly under kitchen cabinets, however, it's always best practice to glue these sections in place.
How Much Weight Can You Put on Vinyl Plank Flooring?
If you find yourself wondering just how much weight vinyl plank flooring can handle, it's important to know that it is a very strong material. According to professional installers, it can handle about 500 pounds of weight. However, many homeowners assert that it is capable of withstanding even heavier items such as pianos and very heavy refrigerators.
As long as you are using high-quality, sufficient protection, in the form of furniture pads, vinyl plank flooring can hold up to 600 pounds. More specifically, install felt furniture pads on all of your furniture to avoid any unnecessary scratches, marks, scuffs or indentations to the vinyl. Heavy furniture placed directly on vinyl flooring can cause cracking and ruin it completely, often requiring a replacement.
Using furniture pads on vinyl plank flooring will help you to effectively and efficiently keep your items in place and protect the flooring from damage caused by heavy furniture. Additionally, these felt pieces will not leave any residue and are completely adaptable to almost every furniture leg or base.
Click-Lock vs. Glue-Down Vinyl Plank Flooring
Oftentimes, the ability to place heavy items on top of vinyl plank flooring depends on the type of installation. Vinyl plank flooring can be broken down into two types: click-lock and glue-down.
Click-lock vinyl plank flooring is installed on top of a subfloor and is attached with a locking system. It is essentially a floating floor. Putting heavy appliances on click-lock vinyl plank floor prevent it from contracting and expanding, leading to damage and buckling. However, heavy furniture can be placed on this type of flooring, so long as you use floor protectors.
On the other hand, glue-down vinyl plank flooring has no need to expand and contract, and it has no issue with heavy appliances or furniture. However, be sure it implement the same preventative measure – floor protectors.
How to Protect Vinyl Plank Flooring
While vinyl plank flooring is considerably cheaper than hardwood, it is still an investment that necessitates the appropriate protection. Aside from executing felt furniture pads to stop damage caused by heavy furniture, there is a number of other actions you can take to ensure your flooring lasts well beyond its lifespan.
Sweep and/or vacuum your floors often. This will remove, sand, dirt or any other particles tracked in from outside that could potentially scratch the surface.
Pay close attention to wet substances. If you notice any soggy or wet materials on the vinyl flooring, clean it up immediately to prevent any permanent staining from occurring.
Protect from sun exposure. Reduce the amount of sun exposure that your flooring receives. Excessive sunlight can cause the vinyl to fade over time.
Avoid using rubber mats or rug pads. Instead, choose natural weave doormats or rugs without any backing. Do not use rugs or mats that contain rubber or latex as these materials can cause permanent damage to your flooring.
Use door mats. Position door mats at all of the entrances to your home. This will decrease the amount of rocks, moisture, dirt, and other debris that make their way inside and reduce the risk of scratching.
Vinyl plank flooring does require regular cleaning to ensure upkeep and overall quality. However, you should adhere to the following tips when performing maintenance on your flooring:
Do not put wax or solvent-based products on the flooring when polishing. This will most definitely reduce the lifespan of your vinyl plank flooring.
Avoid any harsh/abrasive cleaners, shiny products or detergents. These materials can leave a dull layer on your flooring.
Do not use bristled brooms or any other harsh cleaning tools. These items will cause visible damage to the surface of your vinyl plank floors.
How to Clean Vinyl Plank Flooring
Although we've already clued you in on how to protect your vinyl plank flooring, you're likely wondering what is the best cleaning method. Fortunately, vinyl flooring, regardless of the type, is virtually maintenance free. In fact, one of the main reasons that homeowners choose vinyl as their flooring material is because it's so easy to clean.
To clean your vinyl plank flooring, use a vacuum to remove debris, dust, and dirt. For best results, opt for a vacuum without a beater bar. To keep your flooring sparkling, you can also use a damp mop. Be sure to avoid excessive moisture and clean up spills immediately to avoid damaging the floor.
It's as simple as that!
Pros to Vinyl Plank Flooring
Installing vinyl flooring in your home comes with a number of advantages. Because of its significant versatility and flexibility, it makes a striking alternative to both hardwood and tile flooring. It can resemble a stunning white marble for your bathroom or transform into oak planks that closely resemble real hardwood.
Unlike the more conventional tile and hardwood flooring, vinyl is softer on the foot. It absorbs sound more effectively, and feels warmer and more comfortable to walk on than flooring made of harder materials.
Additionally, vinyl is easy to maintain and waterproof, making it an ideal choice for kitchens and bathrooms. It's a long-lasting product that, with the necessary maintenance, can last upwards of 20 years. It necessitates very little upkeep; only requiring proper protection against heavy furniture and to be swept and mopped as needed.
Cons to Vinyl Plank Flooring
Like anything, there are some downsides involved in vinyl plank flooring that should be considered. While the flexibility can be a desirable characteristic, it comes at a price.
Because vinyl plank flooring is made of a softer material than real hardwood or tile, it's susceptible to abrasions, scratches and other permanent damage caused by heavy furniture or sharp items. Simply dropping a glass onto the floor can create gouges that are almost impossible to remove. Also, when certain types of vinyl tiles experience attrition, the entire piece can be displaced and require a complete replacement.
Vinyl flooring has a tendency to warp if any particles become trapped underneath during the installation. Because of this, it's important that extra care and attention is taken during the install.
Furthermore, installing vinyl plank flooring will not add any significant value to your home like hardwood will. If you're renovating to increase the resale value of your house, vinyl plank flooring may not be the best route.
How Much Does Vinyl Plank Flooring Cost?
In addition to planks, vinyl flooring also comes in tiles and sheets. Among these three main types, each comes with varying features such as rigid core, peel and stick installation, and waterproof core vinyl. With so many choices to choose from, the price point will shift based on the amount of features your vinyl flooring is outfitted with.
With that being said, the table below outlines the estimates for vinyl flooring prices. We've included the prices for all three main types to help form an accurate comparison.
| | | | | |
| --- | --- | --- | --- | --- |
| Vinyl Type | Average Cost Per Square Foot | Low | Average | High |
| Planks | $2.99 | $990 | $2990 | $4990 |
| Tiles | $3.30 | $610 | $3300 | $5990 |
| Sheet | $1.70 | $770 | $1700 | $2630 |
Relevant Questions
How long after installation can you put furniture on vinyl flooring?
You should not place furniture on vinyl flooring immediately after install. Wait at least 24 to 48 hours and make sure that you affix furniture pads to the base of all your furniture.
What cleaning products can you use on vinyl plank flooring?
As previously mentioned, vinyl plank flooring requires very little maintenance involving just basic routine cleanings. The best solution for cleaning vinyl floors is a combination of tap water and mild dishwashing soap. Keep in mind that standing water can cause significant harm to vinyl flooring. Also, when mopping you should use a microfiber mop instead a string mop.
Can a Swiffer WetJet be used on vinyl plank flooring?
Yes, Swiffer WetJets are soft enough to be used on vinyl flooring. However, avoid using the abrasive scrapper on the opposite end as this will damage the floor's surface.
Will my dog's nails scratch my vinyl plank flooring?
Fortunately, vinyl plank flooring has a wear layer that protects the surface from scratching. If you have a large dog with frequent zoomies, make sure that you get the thickest wear layer option available. Although vinyl plank flooring does have this layer, no vinyl products are completely scratch proof and scratches can occur over time. To help lessen the number of scratches, always keep your dog's nails trimmed.
Does my vinyl plank flooring need an underlayment?
Depending on the vinyl flooring product that you purchase, it may already come outfitted with an underlayment. In these instances, you will not need to purchase an additional underlayment. You may, however, need to install a vapor barrier. More specifically, you will need a vapor barrier if you're placing the vinyl plank flooring over a concrete subfloor or anywhere that is prone to moisture.
On the other hand, if the flooring does not come with an underlayment, it is recommended to purchase one. Underlayment protects both the flooring and the subfloor, is sound dampening, and makes your vinyl plank flooring soft underfoot. Avoid rubber and opt for an underlayment made of cork.
Do You Need to Hire a Flooring Contractor?
Get free, zero-commitment quotes from pro contractors near you.
Wrapping It Up
In general, vinyl plank flooring is a very affordable, versatile, and effective alternative to hardwood or tile flooring. It is also virtually maintenance free, making cleaning very easy! However, since vinyl plank flooring is constructed using softer materials, it does require some extra care to ensure its durability.
Though it is perfectly safe to place heavy furniture atop vinyl plank flooring, you'll want to protect it from damage by installing felt furniture pads on the feet of all your furniture items. This will allow you to still enjoy your hefty furniture pieces or appliances while ensuring the long lifespan of your vinyl floors.
Related Guides

Jessica Stone
Jessica considers herself a home improvement and design enthusiast. She grew up surrounded by constant home improvement projects and owes most of what she knows to helping her dad renovate her childhood home. Being a Los Angeles resident, Jessica spends a lot of her time looking for her next DIY project and sharing her love for home design.
More by Jessica Stone
Published August 19th, 2020 3:50 PM