109 Views
Can You Pour A Driveway With Bagged Concrete? (Find Out Now!)
November 30th, 2021 2:22 PM
Share
We're committed to finding, researching, and recommending the best products. We earn commissions from purchases you make using links in our articles. Learn more here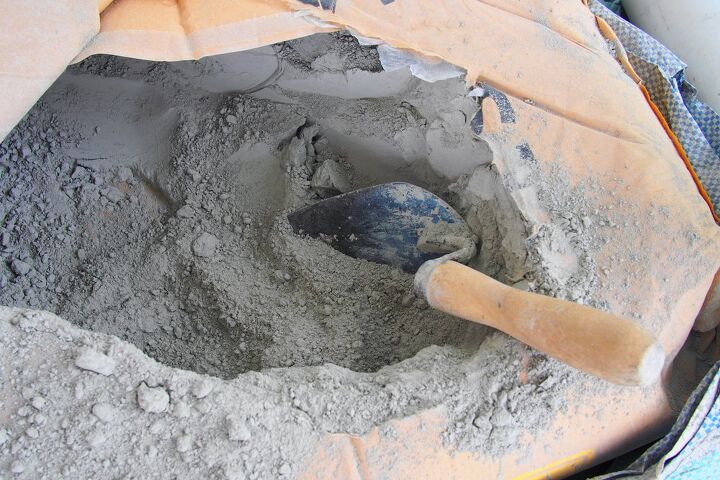 You finally have the time to fix your driveway. Concrete is the ideal material, but it's also expensive. As you look for ways to stretch your budget, bagged concrete may come to mind. Will it work?
You can pour a driveway with bagged concrete. Bagged concrete is more expensive than delivered pre-mixed concrete. Doing the work yourself may save money, but it will take you at least twice as long as having an experienced contractor finish your driveway.
Let's talk concretely about your options for a new driveway that won't break the bank.
Do You Need a Brick and Stone Floor Contractor?
Get free, zero-commitment quotes from pro contractors near you.
What is Bagged Concrete?
Bagged concrete contains many of the same materials as what is delivered by cement trucks. Bagged concrete is graded by how much pressure it withstands, typically between 4,000 psi and 5,000 psi. Driveways require a concrete strength that is between 3,000 psi and 4,000 psi. Lower strengths of concrete are recommended for colder climates.
Bagged Concrete vs. Normal Concrete
There are a few differences between bagged concrete and normal concrete. You can customize the mix of normal concrete. The contents of bagged concrete are determined by the manufacturer.
Normal concrete is delivered to your home in a single batch and mixed onsite. Bagged concrete comes in 40-, 50-, 60-, and 80-pound bags that produce between 0.11 and 0.22 cubic feet. For a 200 square foot driveway with 4" of concrete, you need 112 80-pound bags of concrete.
Driveway Thickness
Concrete needs to be of a certain thickness to hold up to any given amount of weight. Most residential concrete slabs, including driveways, need to be at least 4" thick. If you plan on having heavy equipment or RVs on your driveway, you need 5" to 6" of concrete.
What is Quick Dry Concrete?
You can walk on bagged and pre-mixed concrete within 24 hours, and it takes up to 28 days for the concrete to cure. Quick dry concrete sets in as little as 20 minutes, and you can walk on it after 6 hours. Quick dry concrete is a time-saver, but is it the best option for a driveway? Maybe not. The fast-drying properties of quick dry concrete give you less time to finish the concrete. Unless you are very skilled with concrete, you may end up with a very uneven surface.
Can You Pour a Driveway with Bagged Concrete?
Bagged concrete is just as strong as normal concrete, so you can use it to pour a driveway. A more relevant question may be, should you? Let's look at some key factors to decide if bagged concrete or pre-mixed concrete is the best solution.
Cost
Let's go back to the 200 square foot driveway with 4" of concrete. An 80-pound bag of high-strength (4,000 psi) gray concrete mix costs about $5, and the total cost for 112 bags is $560.
Normal concrete costs $120 to $150 per cubic yard, and the same 200 square foot driveway with 4" of concrete needs about 2.5 cubic yards. The cost of the concrete is $300 to $375. Labor costs for spreading and finishing the concrete is $4 to $8 per square foot. The total cost is $920 to $1,750.
Using bagged concrete and doing the work yourself saves money.
Time
Time is another consideration for using bagged concrete on a driveway. Mixing a single bag takes about 5 minutes. Once it's mixed, you need to move it to your work area, spread it out, and finish it. For one person, pouring a driveway with bagged concrete can take several days or longer.
A good cement crew can pour a concrete driveway in about 2 to 4 hours. Spreading and finishing the concrete takes 1 to 3 days.
Expertise
Pouring a concrete driveway is a bit more involved than simply spreading concrete across the bare soil. There is an art and science to driveway design. The land needs to be leveled and prepared for drainage. Unless your day job is pouring and finishing concrete driveways, the task can be overwhelming. The best option is to leave the job to professionals.
How to Mix Bagged Concrete for a Driveway
You can mix concrete by hand, or you can save some time with a cement mixer.
How to Mix Bagged Concrete by Hand
Pour the dry concrete mix into wheelbarrow or trough. Make an indentation in the center. Check the label on the bag to see how much water to add. Start with 2/3 of this amount. Use a small hoe to mix the water into the mix using a back-and-forth motion. Add the rest of the water a little at a time while you continue mixing with the hoe.
How to Use a Cement Mixer for Bagged Concrete
Add the total amount of water to the mixer, and then pour in the dry concrete mix. Let the cement mixer run until you can no longer see any dry mix. Turn off the mixer, and fill a wheelbarrow with the concrete.
When to Use Bagged vs. Normal Concrete
There are times when bagged concrete is the only option. If you live in a rural area, a cement truck may not be able to reach your property. Buy bagged concrete for the job, and have a contractor pour and finish the driveway.
Share the Load with the Cement Company
You may want to consider one more option. Have the cement company deliver the concrete, and finish the driveway yourself. This saves time because you don't have to mix each bag of concrete. You save money because you don't pay a contractor to spread and finish the concrete.
---
Related Questions
Why is my concrete driveway cracking?
Concrete cracks when the slab shrinks. Cracks also form in concrete when roots grow under the slab or the soil erodes. Fix concrete cracks with a mixture of cement and water.
What is MPA for concrete?
MPA stands for "megapascal." Megapascals are used to measure the compressive strength of concrete. One megapascal is equal to approximately 145 psi.
Do You Need a Brick and Stone Floor Contractor?
Get free, zero-commitment quotes from pro contractors near you.
Conclusion
You can use bagged concrete for a driveway. The strength and composition are similar to pre-mixed concrete. Before you take on the job, though, consider the total cost, as well as your time and expertise. It might be better to have pre-mixed concrete delivered, and hire a contractor to finish the driveway.

Jennifer Eggerton
Jennifer L. Eggerton loves being hands-on, whether it's with a home DIY project, making repairs, re-decorating a room, or keeping life organized. She enjoys helping people by sharing her knowledge, insights, and experiences, as well as her lessons learned. In addition to her work as a writer, Jennifer is a Jeep® overlander, self-published author, and nature photographer who loves being outdoors.
More by Jennifer Eggerton
Published October 19th, 2021 7:57 PM