302 Views
Can I Put A Sleep Number Bed On My Box Spring?
March 19th, 2022 1:06 PM
Share
We're committed to finding, researching, and recommending the best products. We earn commissions from purchases you make using links in our articles. Learn more here
Sleep Number mattresses have made it so that anyone can get a comfortable night's sleep, and many homeowners wonder if they're compatible with their current box spring. Unfortunately, it is not optimal to put a Sleep Number mattress on a box spring. Whether it be sagging or causing damage, let's take a look at why you cannot put a Sleep Number mattress on a box spring.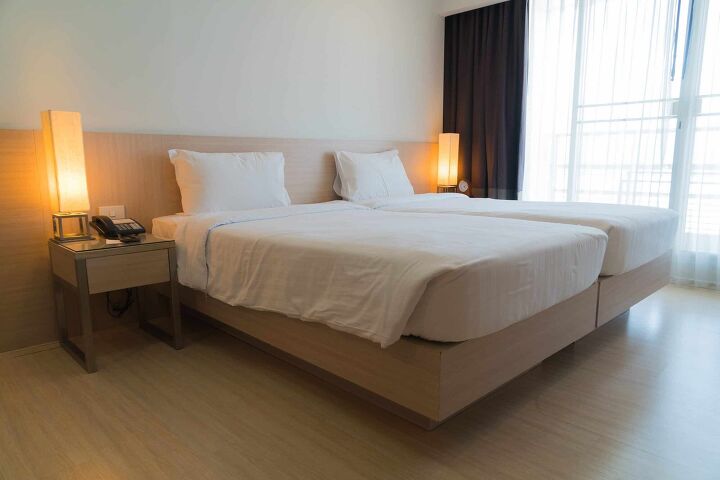 Sleep Number is one of the biggest names in beds because of how well they promote healthy sleep. Their mattresses are comfortable, affordable, and can hold up for years as long as you use a proper base. Countless homeowners have asked themselves; "can I put a Sleep Number bed on my box spring?"
Sleep Number does not recommend that you put one of their beds on a box spring. You need to put your Sleep Number bed on a foundation with a flat base to support it. A Sleep Number bed can sag if you place it on a box spring and it will eventually damage the mattress.
It's important to put a Sleep number bed on a strong and even base to keep it intact. The air pockets within a Sleep Number bed are a big part of its comfort, and a box spring can ruin that. Follow along as we explore why you should not put a Sleep Number bed on a box spring.
Can You Put a Sleep Number on a Box Spring?
According to Sleep Number, you should not put a Sleep Number mattress on a box spring. The mattress will likely sag over the sides of the box spring. Your Sleep Number mattress will weaken over time if you put it on a box spring that doesn't provide a good enough foundation.
You can put a Sleep Number mattress on a box spring, but it won't serve as a good base and it could damage the mattress. However, it is typically fine to use a box spring temporarily until you get a firm and even surface. Ideally, you should buy a flat surface foundation for your Sleep Number when you buy the mattress so that you never damage it.
What Kind of Base For Sleep Number Bed?
Sleep Number beds require a base with a flat, even surface. The flat surface helps to keep the mattress intact without disrupting the pockets of air that Sleep Number beds are known for. A platform bed frame or foundation is perfect for a Sleep Number bed as long as it is the same size as the mattress.
Traditional bed frames with slats can support a Sleep Number mattress, but only if there is no more than 2" of space between slats. Otherwise, the mattress may sag in places and it won't lay evenly across the foundation. Sleep Number also produces FlexFit bases that you can adjust to raise the mattress at the head to sleep more comfortably.
Box Spring Vs. Foundation
The term "box spring" is often used to refer to any base for a bed, but that is incorrect. A box spring is a wooden frame box that contains springs inside to support a mattress. Traditional box springs are a thing of the past because they generally no longer contain springs.
Bed foundations are the new standard bed base and they function similarly to a box spring. The only difference is that modern foundations contain wooden or metal slats instead of springs. You can generally get by without a foundation as long as you have a frame unless you have a Sleep Number mattress.
Best Frame For Sleep Number Bed
Traditional box springs and bed frames don't provide the support that a Sleep Number bed requires. Luckily, there are several types of bed frames that you can use as a base for a Sleep Number bed, such as:
Platform bed: If you have a platform bed, you do not need a box spring or foundation at all. These provide a solid base that replaces the need for a box spring. You probably could put a box spring underneath this mattress, but a wood foundation would be better if you need one.
Slatted bed frame: You don't need a box or foundation if you have a slatted bed frame. However, you must make sure that the slats are no more than 2" apart. You can find slatted bed frames that have wooden or metal slats, but wooden slats are more traditional.
Canopy bed frame:A canopy bed frame often has slats for the bed to sit on. If the slats are close enough together, your box spring might be useable with a Sleep Number mattress. It is ideal to use a wooden foundation in conjunction with a  canopy bed frame to provide extra support for your Sleep Number bed.
Bunkie board: Sleep Number states that it is okay to use Bunkie boards as a frame for the mattress. Bunkie boards measure 2"-3" and you space them out between the Sleep Number bed and the surface below. They are generally made of plywood or particleboard and they are strong enough to support a Sleep Number bed.
Sleep Number Bases
If you decide not to use a box spring or foundation, you should choose a solid, high-quality base. The higher-end bases are Sleep Number bases, which were specifically designed to use with their mattresses. There are many brands and types to choose from that are suitable for Sleep Number mattresses.
Here are some of the Sleep Number brand options and their features:
The FlexFit 1
This model you raise the head of the bed. This model ranges from $999.99-$2099.99.
The FlexFit 2
This model can raise the head and foot of the bed and has a timer to change positions. In the king-sized options, your partner can move only their side of the bed, and vice versa. This model ranges in price from $1499.99-$2999.99.
The FlexFit 3
This one includes the features of 1 and 2 and adds a massage feature, under-the-bed lighting, and a foot-warming feature. This one ranges from $1999.99-$3999.99.
Sleep Number Modular Base
The Modular Base is a more basic, more affordable option. They are firm, durable, and according to Sleep Number last for up to 25 years. You can also add legs to these bases to raise them higher if desired. This base ranges from $199-$399.
---
Related Questions
How much does a Sleep Number mattress cost?
Sleep Number has several different mattresses ranging in price from $999.99-$5099.99.
Can I use plywood instead of a Bunkie board?
You can use plywood as a cheaper alternative to a Bunkie board, but it may not be as durable as an actual Bunkie board. To support the weight of your mattress, you will need to purchase plywood that is at least 1 inch thick. Bunkie boards range from 1-3 inches thick.
Related Guides

Kathryn Flegal
Kathryn is a craft aficionado who loves writing about DIY home improvement projects. When she's not writing, she loves reading, listening to musicals, and playing with her kids.
More by Kathryn Flegal
Published September 21st, 2020 4:37 PM