41 Views
Can I Put A Junction Box In The Crawl Space Under A Shower?
April 27th, 2021 11:53 AM
Share
We're committed to finding, researching, and recommending the best products. We earn commissions from purchases you make using links in our articles. Learn more here
Although building codes allow junction boxes in crawl spaces and attics, they impose strict regulations and installation standards on them to prevent the risk of electrical fires and shocks. Putting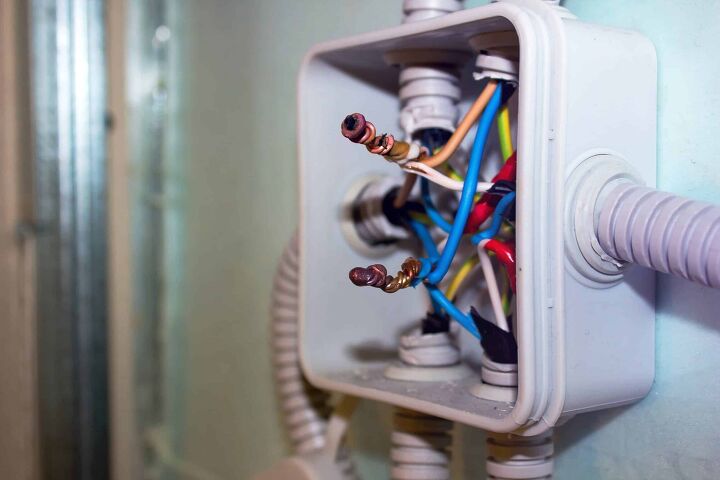 Although building codes allow junction boxes in crawl spaces and attics, they impose strict regulations and installation standards on them to prevent the risk of electrical fires and shocks.
Putting a junction box in places like a crawl space is risky, especially if you place them right under the shower. Building code says that the junction box should be immediately accessible at all times, so it's definitely doable. But showers can and do leak sometimes, so you are better off placing it someplace else in the crawl space or the attic.
However, with the right method, water-proofing, and a corrosion-free junction box, you can run wiring through the crawl space under the shower if needed. Still thinking if it'd be a good idea to put a junction box in the crawl space? Read on!
Do You Need to Hire an Electrician?
Get free, zero-commitment quotes from pro contractors near you.
Why Do People Have Crawl Spaces In Homes?
Crawl spaces are primarily empty areas of limited height, located right beneath the floor. Typically, they're about one to three feet high – just big enough to crawl inside it (like the name suggests).
Having a crawl space inside the house has many benefits but the two main ones are accessibility and cost – that's because it allows fresh air to flow freely under your home.
Many people who construct their house floor above the ground do it for two good reasons. Here're they:
Ease And Convenience
A crawl space is a perfect place to install your house's HVAC unit as well as several other things including piping, sewer, and water arrangement lines. One added advantage of having all these things in the crawl space means you don't have to worry about any future replacement or repairs, as they become far easier.
Cost-Effective
Suppose you've decided to create the concrete pad, and for this, you need to move a sufficient volume of dirt so that slopping land around the house can be leveled. If you don't have crawling space in the place, it can cost you dearly.
What Is A Junction Box?
A junction box is an electrical box that serves as a focal point for your home's wire connections – diverting circuit to different switches. It can also work as the base for several cables to run many fixtures. A junction box can either be made of plastic or metal, and it protects your home's entire electrical connections.
One thing you should remember here is that electricians often use the junction box to connect everything, including receptacles, switches, and fixtures. This should be avoided if your box is small, as it is risky and unsafe.
How To Protect A Junction Box Under A Shower
The junction box can be placed under a shower in the crawl space of your home but with certain precautions that should be duly followed. Even if you've installed a waterproof junction box, it still requires protective measures to ensure all wire connections are safe.
Let's dive to know more about the type of measures do you have to take to put a junction box under the shower:
Choose A Water Proof Electrical Junction Box
If you want to install a junction box under the shower in the crawl space, always choose a waterproof pack, to be on the safe side.
Make sure its watertight qualities against splashing are excellent. This is important because if you've got a leakage under the shower, water can reach the box and cause damage. That's why going for the water-resistant junction box proves handy in case you want to install it under your shower.
What's important to note here is that these boxes not only provide safety when you've got a leakage but in ordinary cases as well, for example, when you make a splash coming out the shower.
If you're still in doubt what to look for in a waterproof junction box. Here's a quick set of features to go for:
Make sure the design you choose to place under the shower should have less seems
Efficient gasket use
The fasteners should be placed quite strategically
To ensure water doesn't enter the junction box, choose one that has used sealed latches (catches) and locks.
Corrosion Safety
Having a waterproof junction box isn't enough to place it under the shower. You need more safety steps! Even if you know that the home is watertight, your junction box can get vulnerable to another danger called rust or corrosion. Here's a universal fact: all crawl spaces have excessive moisture that leads to rust.
So, to ensure you've durability and carefree performance from the electrical junction box even under the shower, it needs to be corrosion proof.
If that's not the case, corrosion will eat the metal in no time, and as a result of this, water gets in! You know what happens when water enters your electrical box; it could either damage the components or cause a short circuit.
Take the necessary precautionary measures before you place a junction box under the shower in your crawl space, and you're good to go!
How To Install A Junction Box
The electrical market is full of different types and sizes of junction boxes, so it's essential to purchase one that's appropriate and easy to install. Besides that, always pick a big size box with ample space to include many wire connections.
If you want to know how to install a junction box, just follow the steps below:
Step 1
Turn off the circuit power. Do it by twisting off the proper breaker from the service panel. Now, use a voltage tester to test wires you would like to operate.
Step 2
In case the box is a metal made, take out its knockout from every cable. Remove it with a hammer and a screwdriver, and use pliers to turn the metal disk.
Step 3
Now, for every cable, you need to install a clamp. Put the clamp inside the knockout and tight it with a ring-like nut. Use your hands first; after that, do it using a plier.
Step 4
Carefully separate all circuit wires so that there's enough space for your junction box. Now, mount it on the frame structure you've created using screws.
Step 5
Place all the cables into your junction box from its clamps. Make sure cable sheaths and conducting-wires should go up to 1/4 inch and 6 inches, respectively. Now, tighten each clamp screw so that cables are secured, but don't overtighten it as it can damage the lines.
Note: Make sure the conducting-wires are unharmed, clean, and straight. Also, expose them up to 3/4 inch only (not more or less) outside the insulation. If you've got a damaged wire, trim it without any hesitation.
Step 6
Connect all wires with correct wire connectors. Follow this sequence: first, attach the copper wires (green wires), then white wires (also called neutral wires), and in the end, black wires (aka hot wires).
Use the instruction manual of your junction box to learn more.
Step 7
Very cautiously fold all wires into your junction box. Now, install its cover and secure it by tightening its screws. Restore the circuit's power, and you're good to go!
Do You Need to Hire an Electrician?
Get free, zero-commitment quotes from pro contractors near you.
---
Related Questions
Does A Junction Box Have To Be Covered?
Yes, covering your junction box is extremely important irrespective of the fact where it's placed. It protects wiring and saves people from accidental contact. Also, it stops the fire from spreading in case the wires get overheated.
Can We Place Excessive Wires In The Junction Box?
No, you can't. Not only is it risky and hazardous, but also it is against the general rules of the National Electrical Code (NEC).
Does Wiring Require Conduit In The Crawl Space?
No, it doesn't. Also, there's no need to pass the wire through a conduit. As long as you place them in the middle of joists, it won't face any physical abuse.

Ian Haynes
Ian Haynes is a digital marketing specialist and has successfully written hundreds of home improvement guides. Outside of his work, Ian likes fixing old bikes and exploring Brooklyn with his Labrador.
More by Ian Haynes
Published September 21st, 2020 10:07 AM