176 Views
Bubbles In The Joint Compound? (Possible Causes & Fixes)
July 3rd, 2021 4:27 PM
Share
We're committed to finding, researching, and recommending the best products. We earn commissions from purchases you make using links in our articles. Learn more here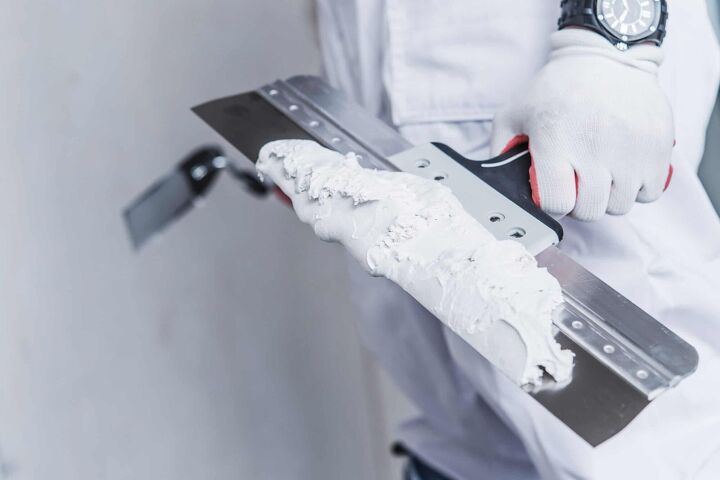 There are so many small projects when you're working on improving your home. Instead of just "painting the walls," you may have to add drywall, a joint compound, and a primer first. If you're using a joint compound to finish the walls in your house before painting, you may run into some problems.
Bubbles appear in joint compound if the surface is damp, it is mixed poorly, or you didn't apply enough pressure. You can prevent bubbles in joint compound if you sand the surface between coats or carefully mix the batch. Add mild dish soap to the joint compound to prevent bubbles.
The second joint compound coat can be applied a little thinner, with more pressure and a wider knife. Doing this can help get rid of bubbles. If you've done this and are still having trouble, you're in the right place.
Today, we'll take a look at the different types of join compound, how to prevent bubbling, and compare the alternatives available. By the time you're done with this quick-read, you'll be ready to tackle the task at hand.
Do You Need to Hire Drywall Installers?
Get free, zero-commitment quotes from pro contractors near you.
Why Does Joint Compound Bubble?
It's the First Coat
If you've applied the first coat of joint compound and you see bubbles everywhere, this isn't unusual. This happens often, and you could use a second coat to see if it improves. If not, no worries, I have solutions below.
Damp Surface
Another thing that causes the joint compound to bubble is working on a damp surface. Before you start, wipe down the wall and be sure to wait until it's completely dry before you apply the compound.
Not Mixed Well
One of the most common reasons people see bubbles in the joint compound is that it's not mixed enough. If you're using compound out of a bag and are thinning it with water, mixing it thoroughly is crucial.
Applying Enough Pressure
The penultimate reason people struggle with bubbles is by not applying enough pressure. When you're putting the joint compound onto the surface, don't hold back with how hard you're pressing it in.
Direction It's Applied
Lastly, the direction it's applied matters more than most realize. If you find yourself moving the knife or trowel in several different directions when you're using it, this could be the cause of the bubbles.
Solutions to Prevent Bubbles in Joint Compound
Now that you might have an idea of what was causing the bubbles in the first place, it's time to learn how to fix it. There are plenty of different methods below that you can use to get a smooth finish on any wall.
Add Soap
Adding a bit of dish soap to the joint compound mixture is said to get rid of bubbles. This is an easy and affordable hack to use if you've been struggling with having bubbles even after mixing thoroughly.
Sand Between Coats
Some users say that sanding the area down between each coat helps to get rid of bubbles. This can be messy and time-consuming, but if it gets the job done, that matters most.
Mix Thoroughly
The most obvious fix is to make sure that you're mixing the compound thoroughly. If you think you mixed it enough, stir for a couple more minutes to be sure. This is your best bet for getting rid of those annoying bubbles.
Focus on Direction
It's crucial to ensure that you're applying the product in one direction only. Put some compound on your knife or trowel and go in one direction. Then, press it in the opposite direction to make sure all the air pockets are removed.
Start Over
If you feel all is lost, you can start over. This requires cutting above and below the bubbled section and removing the tape between the cuts. Then you make the compound a creamy consistency to add a layer to the joint area.
Take a piece of drywall tape to fit the length needed and center it over the area before applying it. Hold the top edge of the tape and pull the drywall knife down the tape. Doing this will help to remove any air bubbles.
Types of Joint Compound
Lightweight
The most commonly used type of joint compound is lightweight or "all-purpose." It's incredibly easy to sand down and has a 45-minute setting time. This is the best option for those without a ton of experience.
It's excellent for more significant projects and is known to help people get a job done faster. A lightweight joint compound can be used at any phase of the job.
Setting Compounds
Setting drywall comes in large bags and must be mixed with water. The bags are labeled with a timeframe in which the compound will set. If you're repairing small areas, aim for either a 45-minute or 90-minute setting time.
This is a great option if you're looking for less shrinkage and a reduction in cracking.
Topping Joint Compound
Topping joint compound is the most straightforward. It's used as a final coat, and it dries quickly and sands smoothly. You can apply topping compound over taping or lightweight compound.
Taping Compound
Lastly, taping compound is used as a second coat and for taping. It's known for being incredibly durable, resists cracking, and has little shrinkage as it's drying.
Joint Compound Alternatives
Believe it or not, there are several alternatives to joint compound, including spackle. Every DIY enthusiast has their go-to choice. Below, you'll find an easy-to-use comparison chart that showcases six other options to choose from.
| | | |
| --- | --- | --- |
| Product | Pros | Cons |
| Joint Compound | Can cover large areas Long shelf lifeAffordable Less waste | Can spoilWet joint compound can develop mold |
| Spackle | Great for small jobs Ready to use Perfect for beginnersAffordable | Not the best for covering large areas |
| Plaster | Super durable Energy-efficientHelps with sound blocking | Disrupts Wi-Fi signalIt cracks Hard to hang things |
| DIY | AffordableEasy to make a specific amount You learn to make something new | Not as reliable May not be as consistent as store-bought |
| Mud Putty | It sets quicklyDrywall mud is lightweightSands down easily | Best for smaller jobs Dries quickly, causing you to work faster |
| Wood Filler | Easily fills cracksCost-effective Uses natural resources | Longer dry time No adhesive propertiesNot expandable |
| Caulk | Can last for decadesFills large or small areas Can be used for several other home improvement projects | Made of latexCan't withstand extreme temperature change |
Do You Need to Hire Drywall Installers?
Get free, zero-commitment quotes from pro contractors near you.
Related Questions
Can you skim-coat using a joint compound?
If you're restoring the surface of a wall, skim-coating is a great idea. It's the technique of applying several thin layers of gypsum-based joint compound over the whole surface. You don't need any special skills, and it will give the wall a smooth finish.
Can you add water to a joint compound?
You can indeed add water to a joint compound. There's no specific amount of water due to a joint compound's versatility. It comes as a thick paste; you can begin to add water until you reach the consistency you need slowly.
It's crucial to mix it enough; that way, you'll avoid any of those pesky bubbles. This also makes it easy to apply and gives an even texture coat.
What kind of joint compound should I use?
The type of joint compound you use depends on what job you're tackling. If you're repairing cracks or using it as a finishing coat, a lightweight joint compound will be best for you. If you're working on a finishing coat, topping joint compound is a better option to get the job done. Just avoid using topping compounds to tape joints.

Kirstin Harrington
Kirstin is a passionate writer who loves helping people learn new things when it comes to home improvement. When she's not behind a keyboard, she enjoys DIY projects, crafts, spending time with her pets, and making videos. She hopes that with all she writes, someone is finding a solution to their home improvement needs.
More by Kirstin Harrington
Published September 2nd, 2020 1:49 PM