93 Views
Boston Vs. Chicago: Which City Is Better to Live In?
August 24th, 2021 10:04 PM
Share
We're committed to finding, researching, and recommending the best products. We earn commissions from purchases you make using links in our articles. Learn more here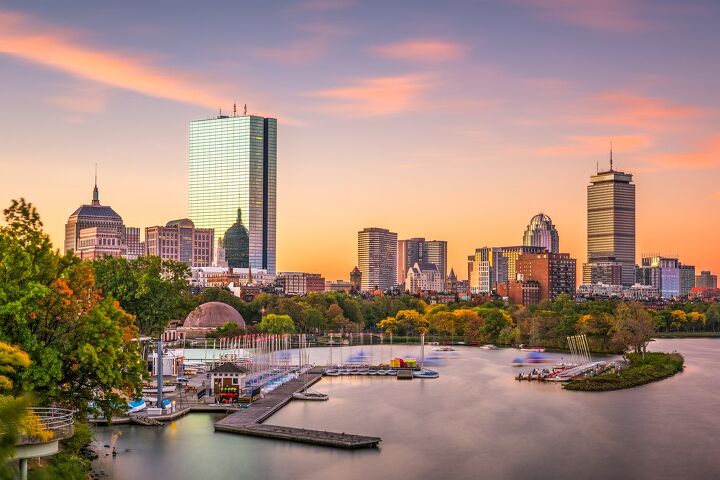 When it comes to cities that are famous for gritty accents, one might argue that both Chicago and Boston are pretty high up on that list. The two cities both have heavily Northern-style accents with almost no twang to them. They're also known for being on the up-and-up as far as cities go. You can bet that they often offer a lot to the right family, but figuring out which one is right for you can be hard.
Both Chicago and Boston are known for having booming entertainment, good food, and bitter winters. However, most people prefer Boston due to the lower crime rate, better education system, as well as a better overall job market. The only issue Boston has is the exceptionally high real estate prices and high taxes.
If you're wondering why Boston is one of the Northeast's top cities, or if you might still be better off with Chicago, it's easy to see why. We're going to give you a play-by-play of each city to make sure that you get the most accurate understanding of each city.
Which City Is Better: Chicago Or Boston?
Most of the time, people prefer Boston. However, this doesn't mean that it's the right city for you. Each option has its own perks that make it worth a look-see.
Not sure if you want to live in Boston or Chicago? Check out our guide comparing Charlotte vs. Raleigh!
Quality Of Life
When you are talking about quality of life, you're usually talking about the way that people feel while they're living it up in their cities. Believe it or not, Boston tends to have a higher rate of depression than most other cities in America. The truth is that the Northeast tends to have more people suffering from depression and anxiety overall. So, it's not just a Boston thing. However, if you are the type of person to suffer based on environmental factors, you might want to move to Chicago.
Winner: Chicago
Cost Of Living
Chi-town has a cost of living index of 107. This means that life in Chicago is only 7 percent more expensive than the national average for day-to-day goods. You cannot say the same for Boston, not by a long shot. Boston has very high tax rates as well as overinflated prices on just about everything from food to utilities.
Due to the high price of everything, Boston has a cost of living index of 162.1. This means that it's over 1.5 times as expensive as the national average…not to mention worthy of rivaling notoriously high-priced cities like Seattle or even New York.
Winner: Chicago
Housing Costs
Boston is notoriously high priced when it comes to housing, even if you are a student studying it up at a local Ivy League college. The real estate prices here are enough to make almost anyone wince, even if they have a good paycheck. The median home price we found was $602,600. However, some reports have them even higher. Ouch.
| | | |
| --- | --- | --- |
| | Boston | Chicago |
| Average Cost 1 BR Apartment | $1,672 | $1,400 |
| Median Home Price | $602,600 | $229,100 |
Job Market
Both Chicago and Boston have a problem with poverty. Chicago has around 20 percent of the town's locals living in poverty, while Boston has 17 percent of people living under poverty lines. However, this doesn't mean Boston is a poor city, not by any means. Boston has an above-average median personal income and a pretty decent median household income too.
Overall, living in Bostom means you have
| | | |
| --- | --- | --- |
| | Boston | Chicago |
| Unemployment | 6.2% | 9% |
| Projected 10-Year Growth | 42.5% | 25.7% |
| Median Household Income | $71,115 | $51,247 |
| Median Personal Income | $35,312 | $31,613 |
Culture
This is a bit of a hard thing to debate, really. Both Philly and Chicago are known for having friendly locals with just a little bit of a snarky attitude. There's a lot of camaraderie among the locals in both cities, and for loving similarly delicious food. Both Philly and Chicago are what foodies would call "craft beer cities."
Philadelphia, in particular, is famous for its craft beer scene. In some circles, they go so far as to try to reverse-engineer some of the brews drank by the Founding Fathers. Chicago, on the other hand, is more about nightlife and house music.
Winner: Tied
Leisure/Entertainment
Leisure and entertainment is pretty fairly split in both. Boston has a sleepy entertainment scene when it comes to nightlife, but the food scene is amazing. Chicago's sports scene rivals Boston, though the sports might change. Due to the better nightlife, we're going to give this win to Chicago.
Winner: Chicago
Transportation
Chicago tends to have longer commute times compared to Boston, but how bad it is can be debatable. Some sources say the commute's around 28 minutes. Others say it's 37. It's hard to tell. But most agreed that Boston's public transit system slashes commuting time and costs significantly. Ergo, the overall verdict seems to be that Boston is the better place for commuters.
Winner: Boston
Demographics
Chicago and Boston are both liberal-leaning areas that tend to have fairly diverse backgrounds. In Chicago, you'll see about 30 percent of the population as white people, with another 30 percent being black, and the final third being Latinx. Boston has a population that is majority white, with 44 percent of the population. The rest of Boston's population is black and Latinx.
Chicago is a very unusual city in the sense that the town is almost entirely evenly split. That alone is a pretty impressive feat.
Winner: Chicago
Education
Chicago has a high school graduation rate of 83.8 and a 4-year college rate of around 37. In most other city comparisons, that wouldn't be too bad a thing. But, we're not talking about most cities. We're talking about Boston. Boston is famous for being one of the most highly educated cities in America. This means that Boston beats Chicago by a long shot.
Boston has Harvard, Boston Latin School, as well as a slew of internationally-famous schools for every walk of life. Boston beats the high school grad rate of Chicago by 3 percent. Around 48 percent of all Bostonites have a 4-year degree.
Winner: Boston
Weather
The weather in both Boston and Chicago tends to be cooler and rainier than the national average. After all, they are both in the northern portion of the United States. Their average temperatures are pretty similar to one another, so you probably won't really notice that much of a difference in how you will need to dress. However, Boston tends to get 10 inches more snow every year. Unless you like snow, Chi-town wins.
Winner: Chicago
Crime Rates
When it comes to matters of crime, Boston and Chicago tend to be night and day. Part of Chicago's history involves a heavy focus on crime, including matters like gang violence and mafia endeavors. Boston, though it did have its heyday as a crime hotspot, isn't really as famous for it as Chicago was.
In terms of hard crime rate data, Boston's crime rate is far lower than Chicago. According to Niche, Boston has lower-than-average property crime rates, but above-average rates for assault. Everything else is roughly average or slightly below. Unfortunately, in Chicago, all crimes are seen at above-average rates. You have a 1 in 107 chance of being a violent crime victim in Chicago and crime rates are rising.
Winner: Boston
The Verdict
Overall, Boston has a lot for people who treasure education, good seafood, and great healthcare. While the cost of living is higher in Boston, most of the time, wages match the higher price tags. Kind of. Either way, the high crime rates of Chicago made the area lag behind in terms of economy.
People who want to make sure that they have the best possible careers will want to choose Boston. However, if you love good entertainment and even better food, then you might want to check out Chicago. With a little bit of time, you never know what might happen. Chicago has a pretty promising future if things work out.
---
Related Questions
Is Boston a rich or poor city?
Around 17 percent of Boston's population lives in a state that would be considered to be impoverished by federal and/or state standards. However, it's technically not a poor city. The wages that Bostonites get are higher than average, which has contributed to a better overall quality of life.The city also recently passed a mandate to increase the minimum wage to $13.50. With that said, it still takes a lot of money in order to live a decent lifestyle. It's up to you to decide how you want to define wealth in cities, but there's an argument to be made either way.
What foods should you try in Chicago?
Chicago is a city that knows how to make some seriously good food, especially when you're talking about deep dish pizza or meaty dishes. Pizza pockets, Chicago-style hot dogs, and deep dish pizzas are the most commonly cited fare. However, it's also important to remember that Chicago has a lot of steakhouses too.Most people are pretty shocked to find out that the steak industry is alive and well here. In terms of drinks, Chicago tends to have a pretty lively mixed drink scene too. Hitting up almost any club in the area is a good way to sample it.
What foods should you try in Boston?
Let's see, there are a bunch of foods. Boston clam chowder (or really any seafood!), Boston cream pies, Boston cream doughnuts….Usually, anything Boston-labeled is a good start to your gastronomic journey in this city. Of course, not all famous foods in this city actually start with the city's name.If you want to give one of the more popular local sodas a shot, pick up some Moxie. This is an incredibly tasty herbal soda that kind of is reminiscent of Dr. Pepper. The author of this article adores a tall glass of Moxie!
More Related Guides

Ossiana Tepfenhart
Ossiana Tepfenhart is an expert writer, focusing on interior design and general home tips. Writing is her life, and it's what she does best. Her interests include art and real estate investments.
More by Ossiana Tepfenhart
Published May 12th, 2021 10:36 PM