97 Views
What's The Best Wet Tile Saw Under $300? (We Picked One!)
June 1st, 2021 10:51 PM
Share
We're committed to finding, researching, and recommending the best products. We earn commissions from purchases you make using links in our articles. Learn more here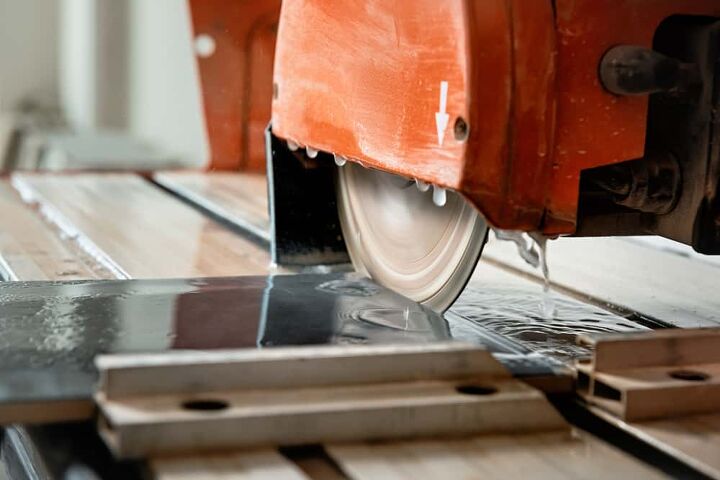 Two of the most popular home upgrade projects are bathrooms and kitchens. Upgrading and remodeling either of these areas in your home usually mean new tile. A wet tile saw is essential to getting a clean, professional look on a tile upgrade. Fortunately, wet tile saws don't necessarily involve a huge investment.
A small investment in a good wet tile saw is an investment in your tile project's quality. The joints often needed in a floor or shower installation are difficult to make with other tile cutting tools. Not only does the best wet tile saw allow more precise fitting, but it also cuts time from your project. Less time invested means a more economical project.
Our selections for the best wet tile saws under $300 represent the most value and features for the price. Each of these saws has outstanding features and can make your tile job easier, faster, and more professional.
| | | | |
| --- | --- | --- | --- |
| Saw Model | Cutting Deck Material | Tile Size Capacity | Best Feature |
| SKIL 3550-02 7-Inch Wet Tile Saw with Hydrolock Water Containment System | Aluminum | 18 x 18 inches | Sliding side extension table for cutting large tiles |
| Porter-Cable Wet Tile Saw (PCE980) | Stainless Steel | 17 x 17 inches | Roll cage with built-in carrying handle |
| Ryobi WS722 7 Inch 4.8 Amp Portable Tabletop Wet Tile Saw | Stainless Steel | 20 x 20 inches | Sliding Guide for precision rip or diagonal cuts |
| Rigid 120-Volt 7 Inch Tabletop Wet Tile Saw | Aluminum | 24 x 24 inch | Extra-large cutting capacity for larger tiles |
| SKIL 3540-02 7-Inch Wet Tile Saw | Stainless Steel | 12 x 12 Inch | Economical Choice for working smaller tile |
| VIYUKI Portable Wet Cutting Porcelain Tile Cutter Table Saw | Steel | 12 x 12 Inch | Low cost |
6 Best Wet Tile Saws Under $300
These wet tile saws offer different options and prices, giving you the best match for your job needs. We understand that having the right tool for the job is the first step to a successful project. These wet tile saws can provide you with the features you need to fit your job.
Finding features on a portable wet tile saw that can compare with much larger and more expensive saws is challenging. SKIL has met that challenge with the 3550-02 portable wet tile saw. This easy-to-move portable wet tile saw can handle all but the most demanding tile cutting jobs with ease.
Construction
The SKIL 3550-02 portable wet tile saw makes the best use of modern materials to build a portable tile saw. The housing of the saw is a tough and durable high-strength plastic. The design creates a rigid platform for the working parts of the saw.
The top of the saw is cast aluminum. The aluminum top ensures years of service without fears of corrosion. The casting of the top creates a stiff and solid surface that allows the tile to slide effortlessly.
Cutting Capacity and Power
SKIL has given the 3550-02 wet tile saw extra cutting capacity by including a sliding extension table. The sliding side extension stores conveniently and extends to allow full support for tiles up to 18 inches. Coupled with the sliding fence attachment, you can create exact straight cuts on larger tiles that other saws can't match.
This saw features an induction drive motor drawing 5 Amps and spinning the blade at 3600 RPM to handle the cutting chores. The motor on this saw can cut tile up to 3/8 inches thick.
What Makes This Saw Stand out?
If there is one feature that draws me to this saw, it is the HydroLock water containment feature. The downside to most wet saws is getting wet while you cut. Even with a good blade guard, the spinning blades tend to spray the operator of the saw. SKIL has designed the HydroLock water containment system to eliminate most of this water spray problem.
If there is a way to stay dry when running a wet tile saw, I am interested. These other features make the SKIL 3550-02 a great pick as well.
Extendible support table for cutting larger tile.
Cast aluminum table resists corrosion
Easily portable around job sites
Lightweight and convenient to carry
I am a fan of Porter-Cable tools in general. I have used various Porter-Cable tools for years with great success and satisfaction.
I do not doubt that the Porter-Cable portable wet tile saw will deliver the same sort of results.
Construction
This Porter-Cable saw is low profile and ergonomically designed. The lower profile puts the saw at a very convenient height when operating the saw. The height of this saw on a table reduces fatigue and strain, which I find to be a big factor in other tabletop saws.
The stainless steel top features deep and plentiful water grooves to keep the work surface clean and relatively dry. The miter guide side of the table slides. A sliding table makes performing precision cuts much easier.
The built-in roll cage and the integral handle is a great feature. The roll cage protects the track of the miter table and the working parts of the saw. Damage to these parts of other saws is always a problem when moving from job site to job site.
Cutting Capacity and Power
Porter-Cable rates the diagonal cutting capacity of this saw to 12-inch by 12-inch tiles. It is possible to perform diagonal cuts on larger or longer tiles. However, this requires some skill from the operator.
Cutting tiles up to 17 inches is no problem with this saw when making rip cuts. You needn't worry about the saw handling glass, stone, or porcelain tiles. The induction motor drives the wet tile saw blade at 2860 rpm to give clean and precise cuts in materials up to 3/8 of an inch thick.
What Makes this Saw Stand out?
Two things catch my attention about this saw. One is the Porter-Cable name. I know that Porter-Cable builds good tools. The other is the built-in roll cage that protects the saw. Damage to critical parts of portable tools is always a problem.
Porter-Cable is a well-known and trusted brand name.
Integral roll cage and carry handle
Stainless steel sliding top
Low profile for ease of use
Almost everyone is familiar with Ryobi cordless power tools.
Ryobi also builds a complete line of corded tools that feature the same quality and durability as their cordless tools. I have stocked my shop with a huge selection of Ryobi cordless tools. I like the Ryobi brand, whether they are corded or cordless.
Construction
The Ryobi wet tile saw is sleek and functional. The open style frame design keeps weight to a minimum yet provides rigid support for the saw. The stainless steel table tilts for bevel cuts up to 45 degrees and the rip guide features locks at the front and the back for precise cuts.
The molded plastic housing features an integrated water tub with a built-in drain for long corrosion-free use. Accessories such as the rip fence are aluminum, eliminating rust on these critical parts.
The aluminum tubing frame mates with an accessory folding table that allows you to use the Ryobi wet tile saw almost anywhere.
Cutting Capacity and Power
The Ryobi wet tile design allows you to cut glass, porcelain, and natural stone tiles up to 20 inches in width. Diagonal cuts are possible on 13-inch tiles. This little saw can handle big jobs with ease.
The powerful induction motor drives the blade at 2600 RPM. The induction motor has enough power and speed to make light work of the thickest tile. The Ryobi wet saw uses standard 7-inch diamond cutting blades, allowing cuts on tile up to 1 ¼ inch thick.
What Makes this Saw Stand out?
The sliding guide on the rip fence makes this a great saw for making diagonal cuts on the tile. The double locks on the front and rear of the rip fence ensure consistent wobble-free operation. Less vibration and movement equals less chipping and more precision.
Front and rear locks on the rip fence
Ergonomic design with aluminum tube frame for rigidity
Sliding miter guide for precise diagonal cuts
Integrates with the accessory stand for even more versatile operation
The Rigid tabletop wet tile saw is probably the best in class on this list of tile saws.
Rigid has made a name for itself as a top brand for professional contractors and home project do-it-yourselfers.
Everything about this saw says quality. It's small, portable, and simply gets the job done. Although, I would probably buy a better blade for the most precise cutting.
Construction
Rigid has considered wet tile saw design from every angle. The anti-splash system keeps water spray to a minimum while using this saw. The True-Lock T-Square design ensures straight and repeatable square cuts using the fence system. A die-cast aluminum top will last for years without corrosion.
Rigid has also added convenience to this wet tile saw. Onboard storage for the accessories and extra blades keeps clutter to a minimum. No more forgotten blade wrenches or accessory parts when transporting the saw from job site to job site.
The Rigid wet tile saw also features an integrated roll cage design to protect the saw. Transporting the saw is less likely to result in damage to the critical parts. The integrated roll cage adds life and value to the Rigid wet tile saw over a long and useful lifespan.
Capacity and Power
This Rigid Saw provides the largest capacity of any saw on my list. The ability to cut 24-inch by 24-inch tiles makes puts this saw near professional grade. If you are laying large floor tiles, this extra cutting capacity will make your job much easier in the long run.
The 6.5 amp motor on the Rigid wet tile saw provides enough power to cut the thickest and hardest tile on the job. No slower feeds when cutting. When paired with the premium diamond blade included with this saw, the 6.5 AMP motor gives smooth chip-free cuts.
What Makes this Saw Stand out?
If you are laying oversize tile, the huge cutting capacity of this saw is the standout feature. Large-format tiles are becoming more and more popular and the need to cut these tiles can be a challenge on other saws.
24-inch by 24-inch cutting capacity
5 AMP motor
Integrated roll cage
Anti-splash design for drier operations
SKIL makes it to my list with a second saw. The investment in a larger wet tile saw could be a roadblock for many homeowners anticipating a do-it-yourself tile project.
If you don't plan to lay oversized tile, a more modest wet tile saw may serve you just as well as a larger saw.
Construction
Like its big brother mentioned earlier in this list, the SKIL 3540-02 wet tile saw features a molded high-strength plastic body and a stainless steel top. This saw is designed to last many years and will give exceptional service for the price.
The water reservoir is molded into the base of the saw and includes a convenient drain. The on/off switch is protected from water by a waterproof membrane for safe operation. The SKIL 3540 wet tile saw is lightweight and offers a small footprint for easier storage when not in use.
Capacity and Power
The SKIL 3540 wet tile saw allows cutting tiles up to 12-inches by 12-inches. For most homeowner projects, this is more than adequate. Diagonal cuts of up to 7/25-inches are possible with the SKIL wet dry saw. The tabletop tilts for bevel cuts up to 45 degrees o material up to one inch thick.
The 4.2 AMP induction motor provides adequate power to cut ceramic, porcelain, glass, and stone tile. The rip fence and miter gauge feature positive locks for vibration-free cutting.
What Makes this Saw Stand out?
For me, the price to value ratio is the big standout of the SKIL 3540-02 wet tile saw. If you aren't cutting gigantic over-sized tiles or doing huge tile jobs, this wet tile saw is a great choice. For a homeowner that wants a wet tile saw in their tool inventory without a huge budget, the SKIL 3540-02 wet tile saw is a good option.
Features and value of this saw make it a great do-it-yourselfer choice
Stainless steel top ensures a long life without corrosion
Compact design stores and moves easily
Easily cuts the most common sizes of tile
Sometimes a project calls for a tool, but your budget says otherwise. Fortunately, if your project is a small to moderate tile project, the VIYUKI wet tile saw may be a solution.
For many do-it-yourselfers, the need for a wet tile saw is not common. Buying an inexpensive tool that can perform the job is often a better option.
Construction
The VIYUKI wet tile saw is an economy model. The base is sheet metal, as is the tabletop. These materials may not be as durable as some, but they provide a rigid construction that allows a reasonable amount of accuracy from this little saw.
The VIYUKI saw uses a slide-in water tray to hold the blade cooling water. The blade guard does a functional job of controlling water spray. The on/off switch is open, and you should only use the saw with a ground fault interrupt circuit for your protection.
The saw is rugged and durable. The metal housing and metal table may suffer from corrosion with prolonged use, but it does stand up well to transport between job sites. The all-metal construction makes this saw heavier than most of the others on my list.
Capacity and Power
The design of this saw limits the cut capacity to 12-inch tiles for rip cuts. Diagonal cuts with the included miter gauge limit the tile's size to about 8 inches at most. The rather small table makes stabilizing larger tiles harder which results in less accurate cuts.
A 5 AMP motor gives plenty of power to this saw. The induction motor operates on a standard 120-volt electrical service. However, you should only use this saw with a GFCI protector in the electrical circuit.
What Makes this Saw Stand out?
The standout feature of this saw is the price. At less than $100 the VIYUKI wet tile saw is affordable for almost anyone needing to cut tile for a project. At this price, a single use of the saw can pay for itself.
Budget-conscious option for a wet tile saw
Plenty of power
Solid construction
Good value and reasonable operation
How to Make Your Tile Saw Better
In general, the best tile saw is only as good as the blade. Even a low-cost tile saw will perform better with a high-quality blade. You may be budget conscious with your tile saw purchase, but you should never skimp on the blade you use to cut your tile.
There are some factors to consider when choosing a blade for your tile saw.
Ditch the Blade in the Box
The blade most manufacturers include with your new tile saw are not the best blade by any stretch. These blades are typically on the lower end of the quality scale. Your saw will cut better and more precisely with a high-quality blade.
Choose the Right Blade for the Material
There are different blades for different tile materials. Pick the blade that is best suited for the material you are cutting. If you use several types of tile, keep a supply of blades on hand for each type of material and change the blade when you change materials. Your cuts will be better, and your saw will not work as hard.
Use the Right Size Blade
Your wet tile saw uses a specific size of the blade. Most portable wet tile saws use a 7-inch diameter blade. Using the wrong size blade in your wet tile saw can be disastrous for you and your project.
Keep the Blade Cool
Keep the water reservoir in your wet tile saw full of clean water. The water in the reservoir keeps the blade cool, which prolongs the life of the blade. As it cuts, the water picks up debris and dust from the tile. If you allow too much debris and dust in the water, the blade may begin to overheat.
Getting the Job Done Right
In the end, the finished project is where the judging occurs. More than likely, no one but you will know the effort it takes to produce a quality tile job. The goal is to create a finished project the achieves your goals. Hopefully, you choose the right tools to give the best results with the least work and effort.
Finding the right tile saw for your project is the key. I hope that this article gives you some insight into finding the tile saw that fits your project, your expectations, and your needs. Good luck with your tile project.
More Related Guides

Upgraded Home Team
We are a team of passionate homeowners, home improvement pros, and DIY enthusiasts who enjoy sharing home improvement, housekeeping, decorating, and more with other homeowners! Whether you're looking for a step-by-step guide on fixing an appliance or the cost of installing a fence, we've here to help.
More by Upgraded Home Team
Published March 31st, 2021 11:05 PM