438 Views
The 5 Best Handrails for Concrete Steps [For Your Home]
October 6th, 2021 3:33 PM
Share
Choosing the right handrail for concrete steps is just as important for aesthetic purposes as it is as a safety measure. Luckily, there are 5 handrails for concrete steps that are the best on the market such as the InstantRail 3-Step Adjustable Handrail. Whether it be dimensions, materials, installation, or aesthetic, let's take a look at how the 5 best handrails are unique in their own right.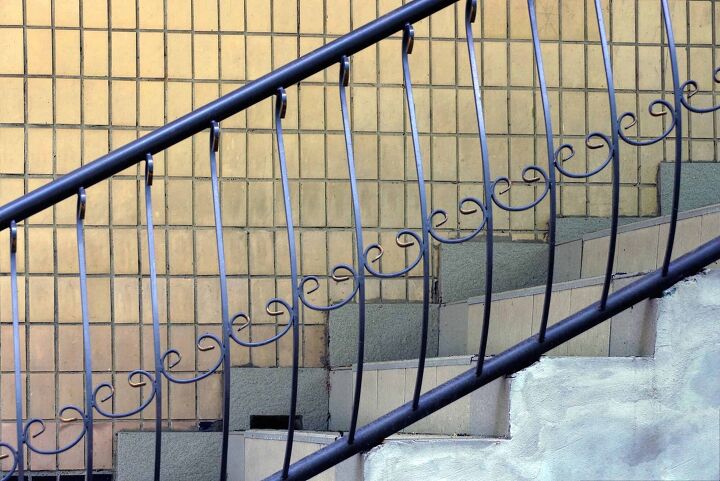 Handrails are a necessary part of building concrete steps. Some handrails work better than others, especially when fastening them to concrete. There are many styles, colors, and designs when it comes to handrails. We are going to go over what makes the best handrails for concrete steps.
The best handrails for concrete steps, are ones that can be bolted onto the concrete, or bolted onto the side of a building, making them secure and accessible. They should be strong enough to take light traffic, or heavy-duty enough for heavy foot traffic.
First, you will need to measure and make sure that the handrails you choose, will work for the number of steps that you have. You will also need to measure, to make sure that the bottom of the handrail will clear the slope of the steps.
Now that you know what you're working with, let's look at some of the absolute best handrails for concrete steps!
Do You Need Brick and Stone Patio Installers?
Get free, zero-commitment quotes from pro contractors near you.
Comparing The Top 5 Picks
SUITABLE FOR 1 OR 5 STEPS---This is a new style of outdoor handrail with 63 Inch length, suitable for 1 or 5 steps, and also suitable for horizontal planes, with a height of 39 Inch which is convenient for pregnant women, the elderly, and the disabled person
【Fits 0 OR 4 teps handrail 】Flexible for 0 or 4 Steps: Our handrails can be flexibly adjusted to suit steps of different heights. You can see the exact size in the picture,It is perfect for helping people keep balance in the rain or winter and prevent skidding.
【Outdoor Hand Rails for Steps】-Our handrails are made of cast iron, heavy-duty steel structure, very strong, safe, stable and beautiful, enough to provide balance and prevent tripping. Both sides of the handrail of the stairs are curved, the surface is smooth and does not hurt the hands, and the grip is comfortable.it's beautifully shaped with a striking metal texture. Heavy duty bar for load above 600 lbs
Flexible for 3 or 4 Steps: Max Height for Steps: 26"/66 cm; Distance Between Posts: 43.8"/111.3 cm; Upper Post Height: 38.2"/97 cm; Lower Post Height: 38.5"/97.8 cm. Due to the flexible height, our wrought iron handrail fits your 3 or 4 steps according to the different sizes. It is perfect for helping people keep balance in the rain or winter and prevent skidding.
Flexible for 3 or 4 Steps: Max Height for Steps: 26"/66 cm; Distance Between Posts: 43.8"/111.3 cm; Upper Post Height: 38.2"/97 cm; Lower Post Height: 38.5"/97.8 cm. Due to the flexible height, our wrought iron handrail fits your 3 or 4 steps according to the different sizes. It is perfect for helping people keep balance in the rain or winter and prevent skidding.
Our number one pick is the
InstantRail 3-Step Adjustable Handrail
. This is a basic 3-step handrail, that is adjustable, from 0-38 degrees. These handrails are made from a heavy grade aluminum, that holds up well over time.
This handrail is for a 3-step, concrete step layout. Since they are adjustable, you can accommodate multiple stair heights. It includes all of the fasteners, plates, Allen wrench, and more for installation. These handrails come in both black and white colors.
The aluminum is powder-coated, and the style of the handrails is attractive. They are great for steps leading up to the front door, our out to the backyard, and have great looking curb appeal.
We like these handrails because of their functionality, they adjust to fit, and they are sturdy. You can't go wrong with that!
This rail is easy to assemble and comes with most of the parts for installation. You only need the mason bit, for pre-drilling the holes into the concrete. It has two posts, that attach to the concrete, as well as a horizontal top piece, and lower piece that curls inward on each end.
Since they are made from powder-coated aluminum, they are sturdy, while still being easy enough to carry and install.
How Many Steps Require a Handrail?
Some states or city codes may require you to put up a handrail, if the grade of your stairs, from the base to the top, is more than 30 degrees. Or if the steps are uneven heights.
A rule of thumb to go by; any steps that are 2 or more, could use a handrail if there will be foot traffic open to the public. Another reason to put in a handrail is in case someone in the home needs extra physical support, going up or down the steps
If there are no code requirements, you may not need to have a handrail at all, but you may want one for aesthetic purposes.
If you think you, or anyone else, may have trouble using steps in the future, you may consider putting in handrails. Falling on concrete can be a devastating blow.
How to Measure Concrete Steps for Handrails
When measuring your concrete steps, to find out what handrails will work with your layout, you want to start at the top of the steps. Here, you want the handrail to be around 36 inches tall, and no less than 30 inches tall.
Use a note pad and a pencil, to write down any measurements that you plan on taking. You need the dimensions of the stairwell so that you can order the right kind of handrails. Count the number of steps and write them down.
Measure from the bottom step, to the top step, to get the length of your handrailing. Next, measure from the bottom to the top tread height, going straight up, to get the total height of the handrailing.
With this information, you should be able to decide what handrails, will fit your stairwell, and you will know what to order. Do your research first, so you do not make any mistakes with the ordering process.
When ordering, consider the number of steps, the length, and the height of the stairwell. As well as the height at the top of the stairs, for the handrail (30-36 inches.)
Popular Handrail Styles
There are many styles of handrails. They can be made from several materials, and all have a particular design and look. You can order them as plain, or as fancy as you want.
Some style examples:
Wrought iron designs can be basic, or decorated with metal, fashioned with twists, angles, and curled ends. These are heavy-duty.
Galvanized pipe designs, use a material similar to chain link fencing posts, that are capped together with metal ends. They have a basic look.
Aluminum designs are sturdy, and hold up well over time. The metal is easy to install and easy to move around. They can be basic or decorative.
Metal and plastic designs come in many shapes and sizes. These can be great for areas that do not get a lot of foot traffic.
You will want to consider what style goes best with the rest of your home, or business. Some people may prefer a basic, modern-looking handrail, while others may want to have something a little fancier or decorative.
Most basic designs come in a straight style, with just a top rail and posts. Decorative designs incorporate styles, such as twisted metal, curved pieces, and even floral designs. Wrought iron pieces have a ton of potential for decoration.
The sky is the limit for how decorative you want your handrails to be. We suggest going with something sturdy, and good looking.
Handrail Materials
The materials that your handrail will be made of, can determine how well they will hold up over time, and with heavy use. A plastic or cheaper metal handrail may be good enough if you are using it less.
However, if you are going to be using it often, then you may want to go with a more heavy-duty design, such as wrought iron or aluminum.
Here are some materials that handrails use:
Iron
Galvanized metal
Hard plastic
Aluminum
Thin gauge metal
All of these materials make great handrails, depending on your situation, and the style you are going for. Most of these materials will be able to be fastened to concrete steps, with the right hardware and tools for the job.
Wall Attached Handrails
An alternative to attaching a handrail to the concrete steps is to attach it to a stairwell wall. This can be a wall made of wood, or concrete. These designs, usually have just one rail on the side of the wall, that you can hold onto while going down the steps.
You may find that this style is easier to install if you have the right layout for it. These handrails can be made from the same materials as the others.
The same steps for installation apply, for wood or concrete. You will need to have the right hardware and tools. Most handrail sets come with all of the hardware, plates, screws, and sometimes even a drill bit for predrilling holes.
Handrail on Concrete Steps Costs
The costs for handrails depends on the style, material of the handrails, and the size of the handrails. You can get a basic 2-3 step handrail for just a couple hundred dollars.
Other larger sets, or ones with more detail, can range from $300-$800. The cheapest option is hard plastic or thin metal handrails. Aluminum handrails are usually priced in the middle, at around $200-$400.
You will pay more for things like wrought iron, and solid metal. These will oftentimes have designs with decorative options. Wrought iron, with decorative metal pieces, can make for a great handrail piece.
Regardless of your budget, you will be able to find something that works for your situation. Some of the hard plastic, and thin metal designs, have decorative pieces, and can still be sturdy enough for light traffic.
Steps for Installing Handrails on Concrete
If you are the one who will be installing your handrails, then here is a list of steps, for installing them on concrete steps. You will need all of the hardware for doing this. The hardware should come with your set of handrails.
You will also need the right tools for the job. Here are some of the tools that we suggest using for installation.
Tape measure
Pencil
Hammer drill
Cordless drill
Socket set
Step 1

Measure the top platform, so that the height of the handrail is between 30 and 36 inches. Some handrails are adjustable, and others need to be ordered to this height.
Step 2

Dry fit the handrailing, by setting it down where it goes. So you can mark the holes in the bottom bracket to be drilled. Use a pencil.
Step 3

Using the hammer drill, install the concrete anchors into the concrete, at the locations that you marked.
Step 4

Put the handrailing into place, lining up the holes in the bottom brackets, with the concrete anchors that you installed. Place a nut and washer on the anchors, to keep the handrail and anchor in place.
That's it. You can install your own set of handrails for concrete steps, with just a few tools, and a little bit of elbow grease. If you do not own a hammer drill or masonry drill, you can rent one at one of the big box stores.
Handrails for the Handicapped
You may want to consider adding a handrail if someone at your home is handicapped, or you own a commercial building with stairs. The handrails may even be required by code.
Makes sure to look up any of the building codes in your location, to comply with their requirements, concerning handrails, at home, and a business location.
Even if you have a concrete or wooden ramp, for wheelchairs, you will most likely need to also add a handrail for the handicapped, at locations that require it.
Tips for Installing Handrails on Concrete
Now that you know what it takes to install a handrail on concrete steps, here are a few tips and tricks to help you along the way.
Always write your measurements down. Keep a note pad and pencil handy to write down any measurements. This is extremely important since you will probably have to order the handrails in advance.
Consider the foot traffic. If you are going to have a lot of people using the stairs, then you may need to go with a heavy-duty iron handrail, over a thin metal handrail. Or you can go in-between, with an aluminum handrail.
Use a hammer drill or masonry drill. You will need a heavy-duty hammer drill, or masonry drill, for drilling into the concrete. We recommend a masonry hammer drill, if you have one, or have access to one.
Double-check all of your measurements, and holes for drilling. When writing down measurements, or marking the holes to drill, always double-check your measurements. Nothing looks worse than holes in concrete that do not belong.
Our last tip is to wear safety goggles when drilling. Eye protection is an important part of safety when it comes to using construction equipment. As long as you double-check your work, and stay safe, you will do a great job with the installation.
Do You Need Brick and Stone Patio Installers?
Get free, zero-commitment quotes from pro contractors near you.
Ready to Purchase Your Handrail
You should feel confident by now on what style of handrail you are looking for. It really comes down to a matter of preference, how much traffic it will get, and how much room you have to work with. Consider durability and functionality.
Handrails for concrete steps can seem overwhelming at first when you think about the installation process. However, there are only a handful of installation steps, and as long as you have some DIY skills, you can pull it off.
Related Guides
Chad Kilpatrick
I'm a writer that is passionate about home improvements, remodeling, and renovating. I enjoy learning new skills and techniques and sharing them with others.
More by Chad Kilpatrick
Published July 27th, 2020 7:04 PM