384 Views
Best Basement Ventilation Fans: Will They Help Avoid Humidity?
October 12th, 2021 5:11 PM
Share
We're committed to finding, researching, and recommending the best products. We earn commissions from purchases you make using links in our articles. Learn more here
A well-ventilated basement makes for a comfortable basement, and it can prevent problems like mold and mildew. There are many great options on the market right now from the AC Infinity AIRTITAN T8 to the Tjernlund V2D UnderAire. Whether you want a natural or mechanical basement ventilation fan, let's take a look at the best ones for your taste and budget.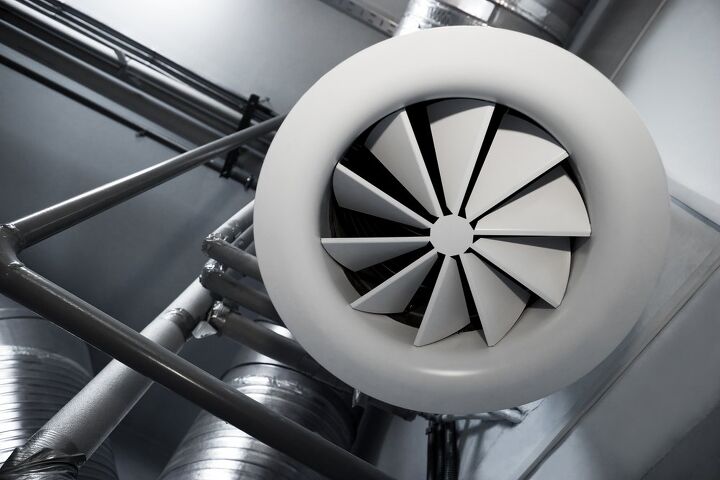 The basement, more than any other area of the home, can become a storehouse for mold growth, moisture concerns, high humidity levels, unpleasant smells and any other indoor contaminants. While unventilated basements are very often prone to stale odors caused by mildew, this lower level is also ordinarily used to store household chemicals.
Everything from automobile products, paints, solvents to various cleaning materials cause the slow release of chemicals into the air of your basement. In a space that isn't properly ventilated, these chemicals have the potential to buildup and create an unsafe living environment. In order to protect your home and its inhabitants, you'll need some sort of ventilation system. There are essentially two approaches to basement ventilation: natural ventilation and mechanical ventilation.
We'll outline the advantages and disadvantages of each of these methods. Additionally, if you opt for the mechanical method, we've provided a list of some of the best basement ventilation fans on the market. These will help you to effectively reduce the risk of any harmful effects caused by improper or no ventilation in your basement.
Why Basement Ventilation?
Due to the basement's location below ground, moisture can, and will, seep from the earth and in through the walls and floors. With the warmer basement air and the cool temperature of moisture, they collide to create condensation.
When you have excessive condensation in your basement, a stale, musty smell develops and when left unchecked, it will collect in pools of water. This situation creates a breeding ground for the growth of mold and mildew. While not all mold types are harmful, many of them are hazardous to the health of those living in your home.
For example, if your basement contains black mold, this can cause allergic reactions, enhance signs of asthma, and evidence of symptoms related to influenza. Because of this, the Environmental Protection Agency strongly urges homeowners to reduce the existence of water or moisture in the basement and install some type of ventilation system.
With a continuous flow of fresh, clean air, mold and mildew spores will not have the necessary environment to grow.
Natural Basement Ventilation
One of the options for ventilating your basement is implementing natural air currents. However, this method of ventilation will only be successful if your basement contains windows that can open and are deliberately placed. While natural ventilation will help to conserve energy, it necessitates more work.
In order for this method to function, your windows need to be opened at consistent intervals and then closed in the case of rain or at night to prevent trespassers. For the best outcome, make sure that your windows are placed opposite each other throughout the layout of the basement and they complement the area's natural drafts.
Regardless, a basement that is consistently wet, will not work with only natural ventilation. You'll need to implement a dehumidifier, fans or some other more mechanical system.
Mechanical Basement Ventilation
This is the most recommended and effective way to remove moisture and water from your basement. Mechanical ventilation exhausts stale indoor air and cycles in fresh, outdoor air by using vents and fans.
This method can be as simple as putting small window fans in opposing windows or as compound as fitting an exhaust fan with a ventilation pipe. A mechanical ventilation system is very popular among homeowners for its automation, effectiveness and flexibility.
Keep in mind that homes that contain Radon are required to have mechanical ventilation. Radon is an odorless gas that can cause lung cancer, even among non-smokers.
The Best Ventilation Fans for Your Basement
The following is a list of some of the best basement ventilation fans, along with their encompassing advantages and disadvantages, that you can install to achieve proper ventilation in the below ground levels of your home.
A fan system designed to provide ventilation and moisture control for crawl spaces and basements.
Reduces humidity by creating exhaust airflow to expel foul odors and stale air from your home.
Programmable controller with corded probe, can adjust airflow in response to temperatures and humidity.
Heavy-duty stainless steel frame with IP-44 rated fans to be highly resistant to liquids and dust.
Includes Wall Adapter | Design: Exhaust | Dims.: 18 x 9 x 1.6 in. | Airflow: 240 CFM | Noise: 32 Dba
This basement ventilation system is a high-airflow fan constructed to regulate the temperature and moisture in basements or crawl spaces. It stops mold and mildew growth by reducing the overall humidity in an area and removes any harmful pollutants like Radon.
The heavy-duty stainless-steel housing features a sleek design that is very unique to other conventional ventilation fans. This, along with the LCD screen and programmable controller, makes the AC Infinity AIRTITAN T8 a very attractive and functional device.
Basic Features:
The programable controller with a corded sensor probe allows for easy airflow adjustments in regards to humidity and temperatures.
Exhausts out odors and hazardous airborne pollutants
The durable stainless-steel structure is impervious to dust and liquids
Dimensions: 18 x 9 x 1.6 inches
Airflow: 24 CFM
Noise level: 32 Dba
Advantages:
Durability: The design and framing make this system very sturdy.
Energy-efficiency: The motor on this device has a high energy-efficiency standard and offers an "eco-mode."
Quiet operation: The fans are very quiet when compared to other models or units.
Good value: It's an excellent value for the price at $119.
Disadvantages:
This device is not adequate enough for larger-sized basements.
Power ventilate musty, damp crawl spaces through existing passive vents
Faceplate is sized for ventilation openings through standard block foundations
220 CFM, 40 watt maintenance free exhaust fans
Includes adjustable dehumidistat, freeze protection limit and 6 foot grounded power cord
Faceplate can be trimmed to match non-standard foundation openings.Dehumidistat control also will not operate if the freeze protection thermostat senses low outdoor temperatures
The Tjernlund V2D UnderAire unit will also help to ensure ideal airflow in your basement or crawl space. The ventilation fan, with its durable galvanized steel construction, increases air circulation to prevent condensation, excess moisture, mold, mildew and wood rot.
There isn't much installation required with this unit as it comes with a pre-existing power cord. The faceplate can be cut and trimmed to allow it to fit any non-conventionally sized foundation openings. This device also features a thermostat for freeze protection and an automatic shutoff.
The Tjernlund V2D UnderAire's power will successfully ventilate damp basements through the use of existing vents. If proper ventilation in your basement is what you require, this may be the unit for the job.
Basic Features:
Two fans and a large faceplate that is sized or can be cut to fit through any opening in block foundations.
A pre-wired 6" power cable.
Adjustable Dehumidistat for automated functioning
Freeze-protected thermostat
Dimensions: 18 x 9 x 2 inches
Airflow Volume: Option of 110 CFM, 220 CFM or 540 CFM
Advantages:
Vents hazardous or unwanted air: Consistent operation vents radon, odors and wood off-gassing that would otherwise end up in the air of living spaces.
Easy-installation: With the pre-installed power cord and flexible faceplate this device can be fitted easily by the average homeowner.
Durable construction: Made of galvanized steel, the faceplate is very sturdy.
Freeze-protection: The thermometer protects against any freezing or otherwise frigid temperatures.
Low maintenance: The exhaust fans do not require any regular maintenance.
Disadvantages:
The overall noise measurements for this system were not advertised online and many customers claim that it does make a considerable amount of noise.
▼ Air Out ▼ Dimensions L x W x H: 18" x 9" x 2". ▼ Seven Leaves AC Axial Fan. (Dual fans with power cord).
▼ Freeze protection thermostat. ▼ UL listed components used. ▼ Measure your crawl space vent opening size before purchasing.
▼ Benefits: 1. Reduces moisture in crawl spaces / foundation to protect home and occupants. 2. Increases air circulation to prevent condensation and wood rot. 3. Exhausts vent radon gas, treated wood gases and odors, prevents migrating into living areas. 4. Exchange the outdoor and indoor air, improve room air quality and balance the humidity.
▼ It helps to reduce radon level in crawl space, since radon (density) is heavier than air, radon will precipitate in lower floors. ▼ 100% Stainless Steel 304 Grade panel & housing box for longer life in humid environment. (Better than SS #430 and much better than other brands' Galvanized Steel.)
The Durablow ventilation fan is another option for improving the interior atmosphere and removing humidity in your basement. With the presence of unpleasant odors in your basement, they will eventually (if they haven't already) reach the upper levels of your home. That's why a quality ventilation fan is essential to exhaust these undesirable smells.
In order to keep the atmosphere in your basement comfortable, you need to create a balance between humidity and airflow. The Durablow MFB M2D does just this. It increases air circulation to effectively reduce the likelihood of condensation or wood rot. The device also helps to prevent any Radon gas or harmful odors from entering your living areas through the basement.
The stainless-steel housing ensures durability and withstands in humid environments. The grade of steel is 100% Stainless Steel 304 and claims to be even more durable than galvanized steel.
Basic Features:
100% Stainless Steel 304 Grade panel and housing
Control panel that shows the current humidity level
Device can be controlled and humidity monitored by WIFI through the smartphone app
Voice-Control and compatible with Alexa, Amazon Echo and Google Home
Features a thermostat for freeze protection
Will be long-lasting with regular maintenance
Built-in dehumidistat
Dimensions: 18 x 9 x 2 inches
Airflow Volume: 220 CFM
Noise level: 50-61 Dba
Advantages:
Rust resistance: The resiliency towards corrosion is a key component of the Stainless Steel T304.
Durability: The housing and panel material is strong and long-lasting.
Effectiveness: Works well at removing stale odors and dangerous Radon gas.
Wifi Connectability: This unit can be easily controlled and monitored through the smartphone app.
Disadvantages:
The freeze thermostat is not always completely accurate.
It is recommended to measure the opening in your basement or crawl space prior to purchasing as it is not easily adaptable.
Reversible basement air exchanger ventilates damp and musty basements
Two 90 CFM fans can individually be reversed to exhaust musty air or supply fresh air to basement
Includes adjustable dehumidistat and pug-in electrical
Exterior hood has removable screen
Includes magnetic covers for winter use
The Xchanger Reversible Basement Fans is another product offered by Tjernlund. This unit is considered to be one of the best ventilation systems and is designed to simultaneously remove humid air and cycle in a new, fresh flow of air. The all-in-one compact design features two fans and a fixed control panel.
The functionality of the X2D makes it highly recommended and widely used among homeowners and other property owners. The X2D has an excellent dehumidistat control system and magnetic draft shutoffs that halt any unwanted odor from being released throughout your home.
One of the greatest features of this unit is the ability to individually reverse the two fans to bring in the air or exhaust it out. The reversible nature is not seen in most basement ventilation fans, making the X2D very unique and desirable.
Basic Features:
Two 90 CFM reversible fans
A detachable hood designed for easy installation
Versatility that allows it to be used in garages and workshops in addition to basements
Magnetic covers for use in winter months
Adjustable dehumidistat
Pre-installed electrical
Dimensions: 22.9 x 16.6 x 9.2 inches
Airflow Volume: 90 CFM
Low wattage to function
Advantages:
Energy-efficient: The X2D uses only 40 watts of power compared to the usual dehumidifier using up to 1,000 watts.
Reversible: Both fans on the unit are reversible making it easy to supply fresh air to the basement or exhaust any unpleasant odors.
Versatility: Allows it to be used in garages and workshops in addition to basements and crawl spaces.
Disadvantages:
Similar to the other Tjernlund model, the measurements for noise output are not listed and many purchasers say that it does make quite a bit of noise.
Remove garage moisture and humidity!
Dry out garage floor puddles
Improve garage air quality
The Tru North Garage Vent was specifically designed to service garages but is still suitable to provide ventilation in basements or crawl spaces. This unit is arguably the easiest basement ventilation fan to install and operate.
The ease of use does not compromise its ability to remove moisture and regulate humidity. The Tru North Vent is highly functional at providing ample ventilation in virtually any environment. Once installed, the unit will turn on automatically, when the area reaches a certain humidity level.
Additionally, the device will turn off on its own when it reaches an established humidity range. Aside from a steel construction, the Tru North vent is housed in plastic with the addition of a metal fan guard for added protection.
Basic Features:
15-foot pre-existing power cable
Automatic turn on and shut off by setting the percentage of relative humidity
Kit includes the exterior louver with UL flex duct and all the required mounting hardware
Dimensions: 11.25 x 9 x 3.25 inches
Airflow Volume: 300 CFM
Noise level: 68 Dba
Advantages:
High Airflow: With the highest CFM on our list, the Tru North vent offers the greatest airflow. The greater the CFM, the more air a fan will circulate.
Easy-install: The pre-installed power cord and kit materials make for a very simple install. Can be assembled and mounted in as little as thirty minutes.
Highly-functional: Will work excellent in both garages and basements.
Disadvantages:
May not be suitable in big basements or other areas with a larger square footage.
The plastic housing makes the system not as durable as units with a stainless or galvanized steel construction.
Relevant Questions
Besides an established ventilation system, how can I improve the ventilation in my basement?
Although some sort of specialized ventilation system is recommended, floor fans and dehumidifiers can help reduce moisture and circulate fresher air.
Do cellars need ventilation?
Just like traditional basements, old cellars are located below ground and will require some sort of ventilation. Natural ventilation will not work in this environment as most cellars don't feature enough windows. You'll have to implement some other way to reduce humidity such as mechanical ventilation.
Related Guides

Jessica Stone
Jessica considers herself a home improvement and design enthusiast. She grew up surrounded by constant home improvement projects and owes most of what she knows to helping her dad renovate her childhood home. Being a Los Angeles resident, Jessica spends a lot of her time looking for her next DIY project and sharing her love for home design.
More by Jessica Stone
Published August 20th, 2020 2:43 AM