383 Views
Standard Bathroom Vanity Dimensions (with Photos)
November 11th, 2022 2:35 PM
Share
We're committed to finding, researching, and recommending the best products. We earn commissions from purchases you make using links in our articles. Learn more here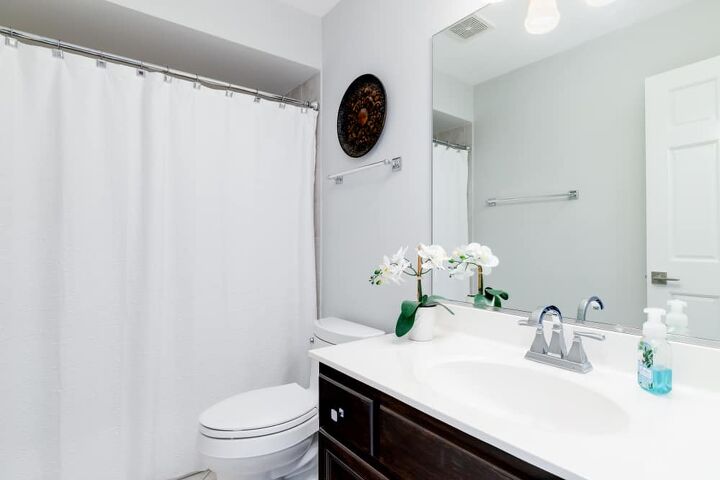 When you renovate your bathroom, deciding on a vanity for the space can be a challenging feat. A bathroom vanity provides a place to store linens and sets the tone for the bathroom.
Standard bathroom vanity widths are 24 inches, 30 inches, 36 inches, 48 inches, 60 inches, or 72 inches wide. The standard depth is typically 20 to 21 inches, but there are narrow options that are 18 inches. The standard height will range from 32 to 36 inches tall.
Do You Need to Hire Cabinet Installers?
Get free, zero-commitment quotes from pro contractors near you.
Choosing a Bathroom Vanity
Before purchasing a vanity, you need to measure your bathroom and determine the size vanity that will work the best. A vanity that is too big can overtake a small bathroom. A vanity that is too small can get lost in a larger, or master, bathroom.
Don't make the mistake of just eyeballing the size of the vanity cabinet you may need. You will also need to measure the height and depth of the vanity. If you have a vanity already in the bathroom, it can serve as a useful guide of what you require.
Types of Bathroom Vanities
After you have determined the bathroom vanity's appropriate size, you can decide on the type of vanity. If you are remodeling a master bathroom, a double-sink vanity may be the best option. If renovating a guest bathroom, you likely only need a single-sink vanity.
Double vanities are typically between 60 to 72 inches in width, but some may be as small as 48 inches. Single-sink vanities range in width from 18 to 48 inches.
Freestanding Bathroom Vanity
A freestanding vanity is the most common type of bathroom vanity. This type of bathroom vanity looks like a freestanding piece of furniture. It can come in a variety of sizes, but it is usually made of wood.
The freestanding vanity can come with an open bottom or a closed bottom. These terms refer to the space below the vanity. A closed-bottom vanity reaches to the floor, whereas an open-bottom vanity has legs.
If you have an open bottom, it can make cleaning much more manageable. However, if you have a closed-bottom vanity, this can create more storage. It would be best to decide based on what will work best for you and your bathroom.
There are several freestanding vanity styles, but common options are two drawers or four drawers. These can feature a single sink or double sink.
Some Examples of Freestanding Vanities
You can opt for a single vanity with a cabinet for storage. A single vanity can range from about 24 to 36 inches wide and roughly 16 inches from front to back.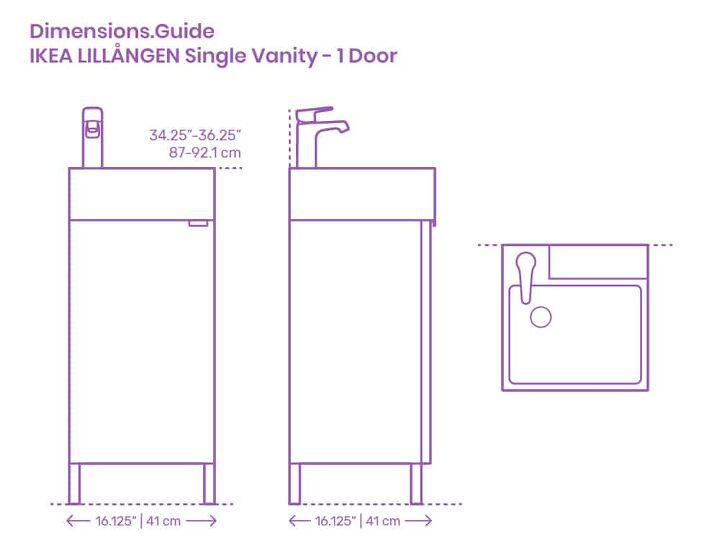 The IKEA Hemnes / Odensvik Single Vanity is an excellent example of a 2-drawer bathroom vanity. It has a length of 24.75 to 40.5 inches depending on the drawer size and counter space. This vanity features a height of 35 inches and a depth of 19.25 inches.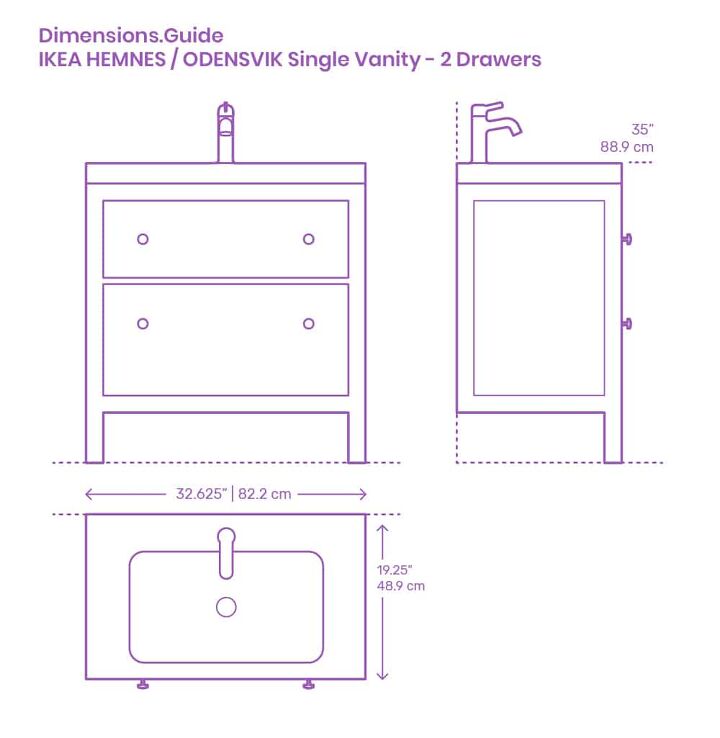 There is also a four drawer option for the IKEA Hemnes / Odensvik Single Vanity. This vanity has a length of 48.375 inches, a height of 35 inches, and depth of 19.25 inches. This example of a four-drawer option gives more storage space as well as counter space.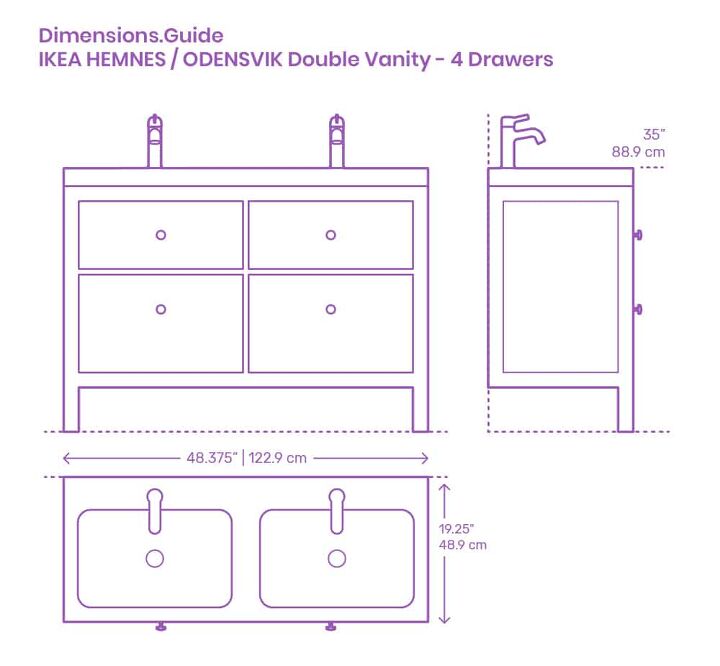 A 4-drawer freestanding vanity is a good choice when multiple people are sharing a smaller bathroom.
Floating Bathroom Vanity
A floating vanity is a bathroom vanity that is mounted to the wall. When you mount a vanity to the wall, it frees up the floor space. This can add a more sleek, modern aesthetic than a freestanding vanity.
If a floating vanity is for you, you have two options. You can have a single or double wall-mounted bathroom vanity. You'll likely base this decision on the available space in your bathroom.
If you have a smaller bathroom, a single wall-mounted bathroom vanity is the right choice. You typically find these vanities in studio or one-bedroom apartments. There is enough space on this vanity to accommodate one person at a time.
Some Examples of Floating Vanities
The dimensions of a mounted single vanity are a little different than a freestanding vanity. The total installation height is 35 inches. This comes from the 21.5-inch vanity being elevated from the floor by 13.5 inches.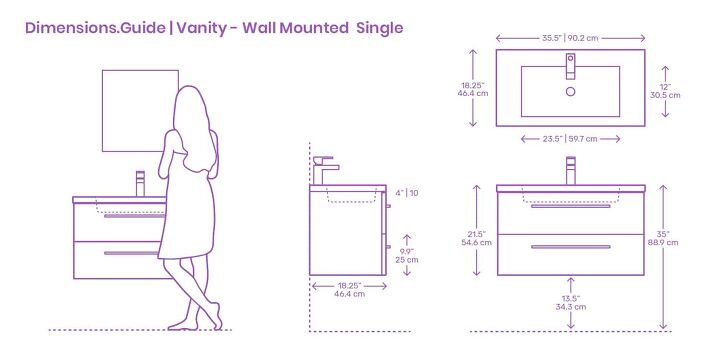 The vanity has an overall length of 35.5 inches and a depth of 18.25 inches. This vanity weighs about 100 pounds. Because of the weight, you may need an expert to install this vanity to prevent future issues.
If you have a larger bathroom, a double mounted vanity is an excellent choice. This bathroom vanity is perfect for shared bathrooms and master suites. It can accommodate two people comfortably while providing enough storage space for both people.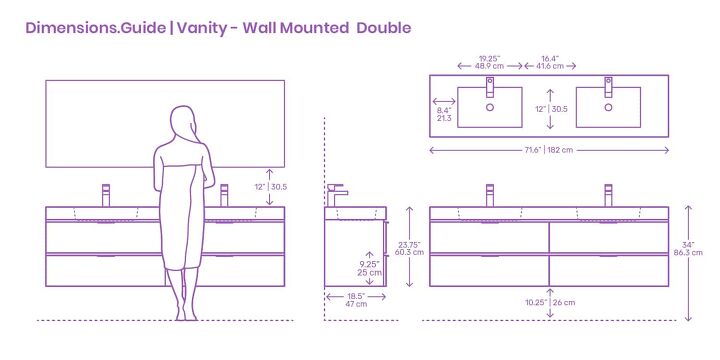 The wall-mounted double vanity has an installation height of 34 inches. The vanity is 23.75 inches high and is elevated from the floor by 10.25 inches. It has a length of 71.6 inches and a depth of 18.5 inches.
Like the mounted single vanity, you may have to hire professionals to install the double vanity. This vanity is more than double the size of the single, weighing about 270 pounds.
Vessel Sink Vanity
The vessel sink vanity is great for master bathrooms and en-suites. This vanity creates a sense of luxury while also being unique.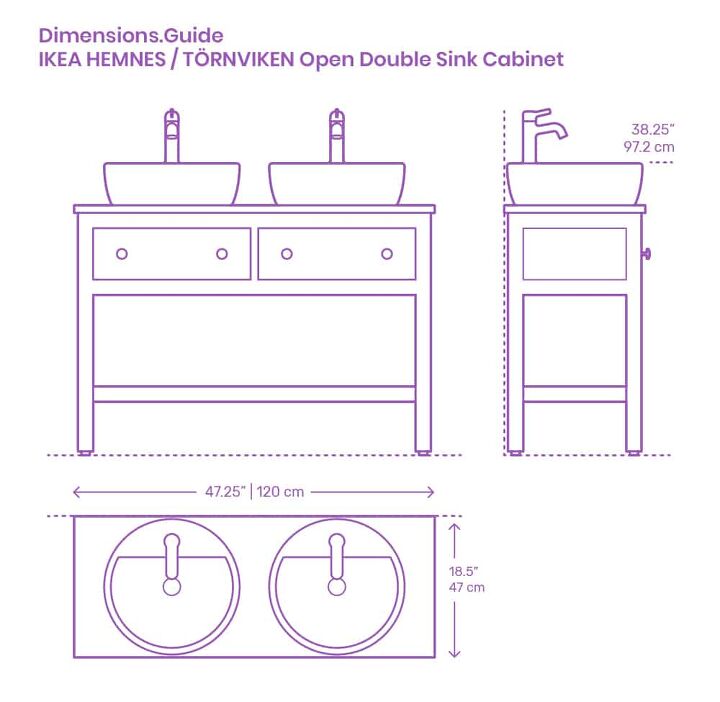 The vessel sink vanity dimensions are calculated similarly to the wall mounted bathroom vanities. But, when you calculate your measurements, the vessel sink vanity's height includes both the sink and the vanity.
This vanity has a length of 47.25 inches, height of 38.25 inches, and depth of 18.5 inches. This is the tallest of the vanities due to the height of the sink. If you are taller, this is an excellent option for you.
Console Vanity
If you are looking for more of an open concept in your bathroom, a console vanity is for you. The IKEA Hemnes / Törnviken Open Double Sink Cabinet pictured above is also an example of a console vanity. If you want the height of the vessel sink with the open concept of a console vanity, this is it.
This design provides a simple, spa-like look for those who do not want a large cabinet filling their bathroom.
Corner Vanity
A corner bathroom vanity is a single vanity that is typically in a half-bathroom or powder room. It's installed in the corner of the bathroom, and it doesn't take up much space. However, it does offer a little bit of bathroom storage.
A typical corner vanity runs about 24 inches along each wall, spanning 36 inches across the front. However, corner vanities come in various styles, some of which extend the counter farther along one wall. This piece usually doesn't come out as far from the wall, allowing the vanity to still fill a small footprint.
Fully assembled by the manufacturer, with countertop & sinks pre-installed
Extra Considerations When Choosing a Bathroom Vanity
Keep in mind these guidelines when planning your bathroom renovation.
Door Clearance Space
Make sure there is adequate room for traffic flow. Allow for at least 34 inches to have a clear opening of a doorway.
The minimum clearance for a standard door comes in two parts. On the pull side, it's the width of the door plus 18 by 60 inches. On the push side, the minimum clearance should be the width of the door by 48 inches.
Fixture Clearance Space
There should be at least 30 inches of free floor space from the front of all fixtures to the opposite fixture. These fixtures include the bathroom vanity, bathtub, shower, toilet, or opposite wall.
You're required to have a minimum space of 21 inches of free floor space in front of a toilet or bathtub. A minimum space of 24 inches of open floor space is required in front of a shower entry.
Double Vanity Space
If you choose to purchase a vanity that has double sinks, the minimum space per person is 24 inches. 30 to 36 inches of space per person is the more common dimension to maximize comfortability. In a more luxurious bathroom, 48 inches of space per person is ideal.
Furthermore, keep in mind the waterline and pipe locations. The center of the sink to the wall should be at least 15 inches. Also, there should be at least 36 inches between the center point of each sink.
Vanity Styles
Just as there are many different types of bathroom vanities, there are also many different styles. Whether your vanity is going in your master bathroom, guest bathroom, or half-bathroom, the style should match your home.
Here are six styles that you want to keep in mind when choosing your bathroom vanity design.
Cottage-Style Vanity
When you think of cottage design, think of a modern farmhouse. This style of vanity has a combination of delicate mouldings, panels, and beadboard. These materials help to embrace the classic farmhouse-style appeal.
A cottage-style vanity often comes painted in neutral tones. These vanities pair well with a painted or weathered hardware.
White marble counter top (one large genuine), White under mount porcelain sink
Mission-Style Vanity
Mission design looks as though it is handcrafted. Clean lines and simple construction give the mission design this appearance. Mission design vanities typically feature solid woods such as oak.
This style of vanity usually features stained wood to expose the grain. Bronze, brass, copper, or iron hardware is generally used to complete the handcrafted look.
Modern-Style Vanity
You're probably familiar with the modern style. You can achieve a modern style bathroom vanity in a variety of ways. One way to get this look is to choose a wall-mounted vanity and paint it a sleek or bold color.
This style features clean lines and a simple appearance. It is perfect for a contemporary home. The hardware used will usually be stainless steel or aluminum to create a clean look.
Rustic-Style Vanity
The rustic style is similar to the mission style as both feature wood in its natural state. Rustic style vanities, however, typically are made of reclaimed wood. The goal is to look as though it has been well-loved.
Brushed metal hardware is a good option for a rustic style vanity. Refurbished hardware also adds to the rustic look. This style is perfect in a children's bathroom as blemishes to the vanity can go unnoticed.
Shaker-Style Vanity
While you may not be familiar with the shaker style, many people have this in their homes. This style of vanity is very simple and clean. There are no ornate details, mouldings, or features.
This vanity style usually features a lighter wood such as pine or maple. Round, metal hardware tends to look best with this style.
24" Wide x 21" Deep New White Shaker Single-sink Bathroom Vanity Base Cabinet
Traditional-Style Vanity
When you think of a traditional-style vanity, think of a classic piece of furniture. If you want to achieve a traditional style, a freestanding vanity is a nice option.
Traditional style vanities feature many ornate details. It is not uncommon to see this style of vanity painted with a pop of color. Cabriole legs, scalloped edges, and intricate designs on the hardware are typical of the traditional style.
Do You Need to Hire Cabinet Installers?
Get free, zero-commitment quotes from pro contractors near you.
---
Related Questions
How do you install a bathroom vanity?
To install a bathroom vanity, trace the outline of the vanity onto the wall. Using a stud finder, mark the location of the studs on the wall as well. Keep in mind that you will need to mark and drill holes for the pipes. After you have prepared the wall, secure the vanity to the wall using anchors and screws. Assemble the hardware of the sink, install the faucet, and attach appropriate pipes. Set the vanity top-level and flush to the wall and finally seal with caulk.
How do I choose bathroom fixtures?
Keep in mind the type and style of vanity when choosing your bathroom fixtures. Looking at bathroom fixtures can be overwhelming, so lean on your own preferences and taste. Your fixtures do not have to be the same throughout the bathroom, so feel free to mix metals. Most importantly, if your vanity comes with predrilled holes for a faucet, make sure you get the appropriate fixture. For example, if your vanity has one hole, look for a single-handle faucet. On the other hand, if the vanity has three holes, you need a faucet with separate handles for cold and hot water. Or, you can look for a single-handle faucet that comes with plates to cover the extra holes. If you still feel unsure, visit your local home improvement store or showroom and bring your measurements with you. These employees undergo training to help bring you through the process. Remember, you can always ask for a sample to bring home to help you make a decision. 

Stacy Randall
Stacy Randall is a wife, mother, and freelance writer from NOLA that has always had a love for DIY projects, home organization, and making spaces beautiful. Together with her husband, she has been spending the last several years lovingly renovating her grandparent's former home, making it their own and learning a lot about life along the way.
More by Stacy Randall
Published November 2nd, 2020 11:40 AM