459 Views
Standard Bathroom Sink Dimensions (with Photos)
January 15th, 2022 4:00 PM
Share
We're committed to finding, researching, and recommending the best products. We earn commissions from purchases you make using links in our articles. Learn more here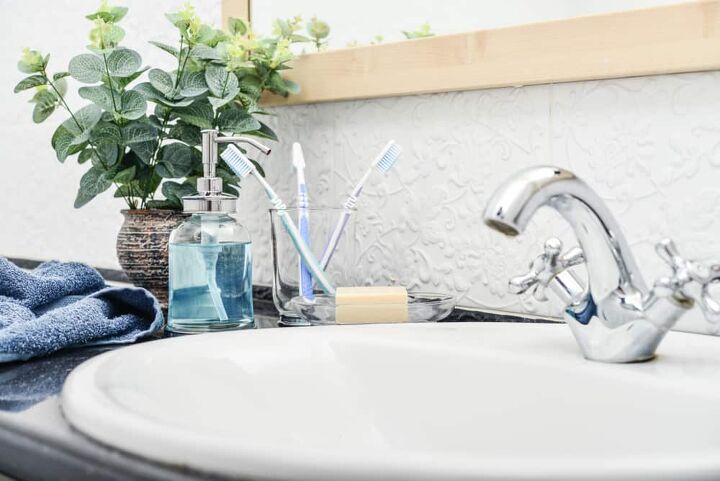 If you go into a bathroom, it's a safe bet you'll at least see a toilet and a sink. However, the style, size, and shape of a bathroom sink can vary widely. But, a few minor points remain pretty constant, no matter what your sink's design.
Sink sizes vary broadly based on style, but a typical round bathroom sink is 16 to 20 inches in diameter. A rectangular sink averages 19 to 24 inches wide and about 16 to 23 inches from front to back. The basin of a bathroom sink is usually about 5 to 8 inches deep.
Of course, besides sink measurements, you have to consider if your sink is stand-alone or built into a vanity. You also have to contend with whether or not you have to fit a sink into an existing opening. All of these little details play a part in finding a sink that is the best fit for your bathroom.
Do You Need to Hire Sink Installers?
Get free, zero-commitment quotes from pro contractors near you.
Bathroom Sink Mounting Options
One of the main ways to distinguish between the different types of sink is how and where they are installed. Here are the most popular mounting options, along with their dimensions:
Pedestal Sink
A pedestal sink adds a touch of charm to a bathroom, but not much storage or surface space. It consists of a basin that is connected to a tall, thin base. Although it's often considered to have a very vintage style, there are some modern pedestal sinks available. Because of their compact size, pedestal sinks work particularly well in small bathrooms and powder rooms where space is limited and counter space and storage is not a necessity.
A pedestal sink is roughly 22 to 24 inches wide and about 33 to 34 inches tall. The depth of the sink (from front to back) can vary but is usually about 18 to 20 inches. Some slimline pedestal sinks are closer to 16 inches wide and 15 inches from front to back.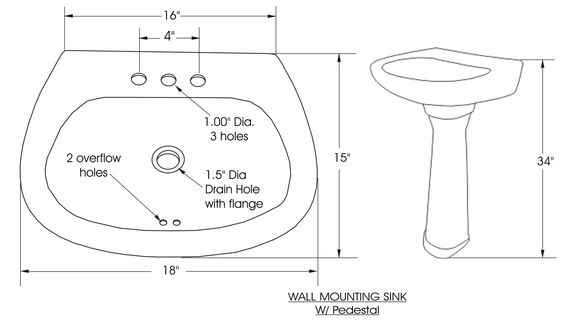 Corner pedestal sinks usually run about 15 inches along the wall. Additionally, they project out roughly 20 inches to the front-most part of the sink. These triangular sinks are an excellent option for bathrooms where space is at a premium.
Pedestal sinks can be freestanding or also mount to the wall for extra support.
Wall-Mounted Sink
A wall-mounted (or floating) sink is another great space-saving option, but it typically doesn't offer much more than a basin. However, some styles feature floating vanities that provide a little surface space. You most often find these types of sinks in businesses and commercial settings. However, they've started popping up in homes as well.
Wall-mount bathroom sinks are installed on the wall at a comfortable height and are open underneath, revealing the water supply lines and drainpipe. Since the plumbing is exposed, it's important that an appealing pipe finish is chosen, like polished chrome. These sinks are cost-effective, offer a clean, open look, and work well in small bathrooms.
The average wall-mounted sink is roughly 20 inches from front to back and a little over 24 inches wide. Some larger models provide more surface area, reaching closer to 40 inches wide or more.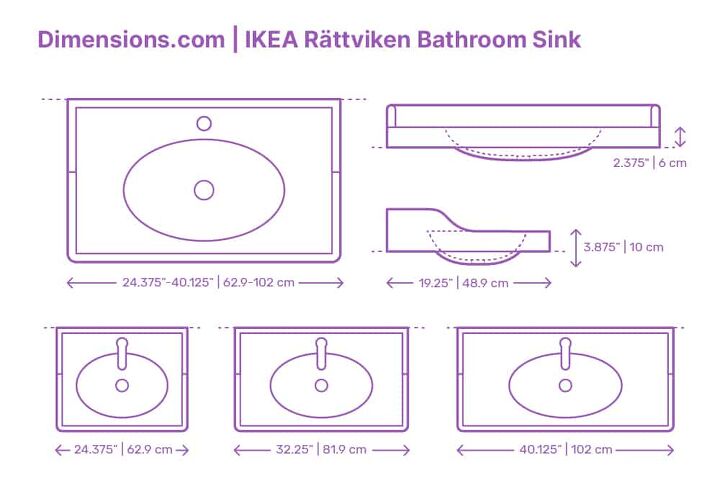 An essential factor to keep in mind is this style of sink has no bottom. Therefore, you'll see the pipes below the sink.
Since the pipes would be visible, a wall-mount sink works best, aesthetically, with attractive pipes like polished chrome or copper. If you don't like the idea of exposed pipes, you could opt for a wall-mounted vanity instead.
A Note About Installing a Wall-Mount Bathroom Sink
Wall-mounted sinks are typically quite heavy, weighing around 85 pounds depending on the material. Therefore it is critical to ensure you install it properly. If you don't feel confident about your ability to do so, hire a professional for this one.
If you have a wall-mount vanity, it will be even heavier. Wall-mount vanities can be anywhere from 120 to over 250 pounds for double models.
A wall-mount sink should sit no higher than a sink in a countertop. The highest point of the sink's front edge should be no more than 34 inches from the floor.
Vanity (Countertop) Sink
A bathroom vanity offers a place to get ready, store items, and of course, use the sink. But, vanities can range in size from super-slim to downright massive. A standard bathroom vanity can be 24 inches, 30 inches, 36 inches, 48 inches, 60 inches, or 72 inches wide. In keeping with a comfortable sink height, most vanities stand about 32 to 36 inches tall.
Typically, from front to back, a standard vanity is about 20 to 21 inches. However, if you need to go smaller, narrower options come closer to 18 inches.
The space needed for your vanity sink depends highly on the size of your vanity and the type of sink. You can choose from under-mount sinks, drop-in sinks, and bowl or vessel sinks.
Undermount Bathroom Sink
Undermount sinks install below the countertop, exposing the edge of the countertop around the sink. These types of sinks are super easy to clean since you don't have to deal with any sink rim.
An undermount sink can come in various sizes and shapes, including round, rectangular, and oval. They can range from 16 to 24 inches wide, usually not going larger than 30 inches. From front to back, undermount sinks are about 12 to 18 inches deep, usually not exceeding 22 inches.
Drop-In Bathroom Sinks
These sinks are usually the easiest to install since they literally drop into the countertop. The sink features a rolled edge that allows it to rest on top of the counter. Of course, this can make cleaning around the sink a bit tricky.
The dimensions of drop-in sinks are similar to those of undermount sinks. Drop-in sinks can also come in various shapes.
Vessel (Above-the-Counter) Sinks
These more modern and often decorative sinks sit on top of the counter. Vessel sinks usually are round and roughly 14 to 20 inches in diameter.
These sinks tend to be more on the shallow side. This, and their raised edges, often make splashing water over the sides when you're washing your face pretty common.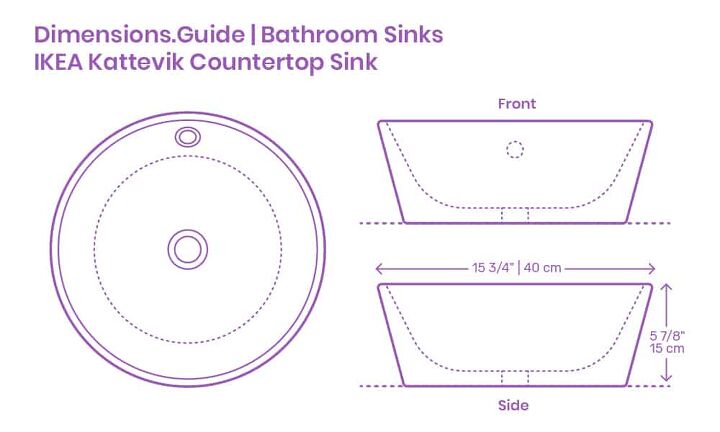 Standard Bathroom Sink Dimensions
Although there are numerous types of bathroom sinks to choose from, from countertop and vanity sinks to pedestal and wall-mount varieties, there are some overall size dimensions that apply to all.
Rectangular and Oval Bathroom Sink Dimensions
Small: Between 15 and 20 inches long, 9 to 12 inches wide, with a depth of 5-3/4 inches to 7 inches
Medium: Between 20 and 30 inches long, 19 and 24 inches wide, with a depth of about 7 inches.
Large: Between 30 and 50 inches long, 19 and 24 inches wide, with a depth of about 5 inches. Though, it's challenging to fit these large "trough-style" bathrooms sinks on the standard-sized countertop. Instead, they are best suited as wall-mounted sinks.
Round Bathroom Sink Dimensions
Small: Between 7 and 10 inches in diameter
Medium: Between 11 and 15 inches in diameter
Large: Between 16 and 20 inches in diameter
Depth generally varies between five to eight inches, on average.
Single Bathroom Sink Size
For a single bathroom sink, you'll need at least a 30-inch vanity. This will leave you with between four and five inches of counter space. As we've seen, wall mount pedestal sinks provide less counter space, but this can be remedied by installing a tower for storage nearby. To maximize the storage space in your bathroom, consider a 36- to 48-inch vanity for your single bathroom sink.
Double Bathroom Sink Size
If you share a bathroom with someone else, double sinks can be a lifesaver. Most commonly, you find double sinks paired up with a vanity or even double vanities. Having double wall-mount or pedestal sinks isn't as common, although you can do that too.
Double sink vanities are typically between 60 to 72 inches in width. However, you can find some as small as 48 inches if space is limited. Single-sink vanities range in width from about 18 to 48 inches.
You can also opt for a double-bowl sink, which can range from 40 to 57 inches wide.
When incorporating double sinks into your bathroom, consider the spacing between the sinks. It would be best to design the area with the assumption that both sinks will be used simultaneously.
Typically, you see double sinks side-by-side. These sinks can be drop-in, be undermount, or vessel style sinks. There should be at least 30 to 36 inches of space between the center of the sinks.
In some bathrooms, there might not be enough space to place sinks side-by-side. Or, on the contrary, the bathroom is expansive and allows plenty of room to spread out. In these situations, you could opt for two single vanities and place them on opposite walls of the bathroom.
Extra Considerations When Choosing Your Bathroom Sink
Sink size and style are essential, but they aren't the only factors to consider when choosing a bathroom sink. You also should strongly consider your bathroom's layout and who will use the space.
For example, if multiple family members use the bathroom regularly, storage is likely a must. Double sinks are also likely a big plus. Aim for the largest vanity you can to maximize your storage without overpowering the bathroom.
Another factor to keep in mind is the interior bowl of the sink. It is usually about 1 ½ to 2 ½ inches smaller than the sink's outer perimeter.
Bathroom Sink Height and Spacing
In addition to some of the points already mentioned, think about the big picture when it comes to your bathroom sink. Typically the top of the sink rests about 34 inches from the floor, although this can fluctuate between 30 and 36 inches.
The bathroom mirror is usually centered over the sink (or the midpoint of double sinks). Usually, you place the mirror about 11 to 12 inches above the sink.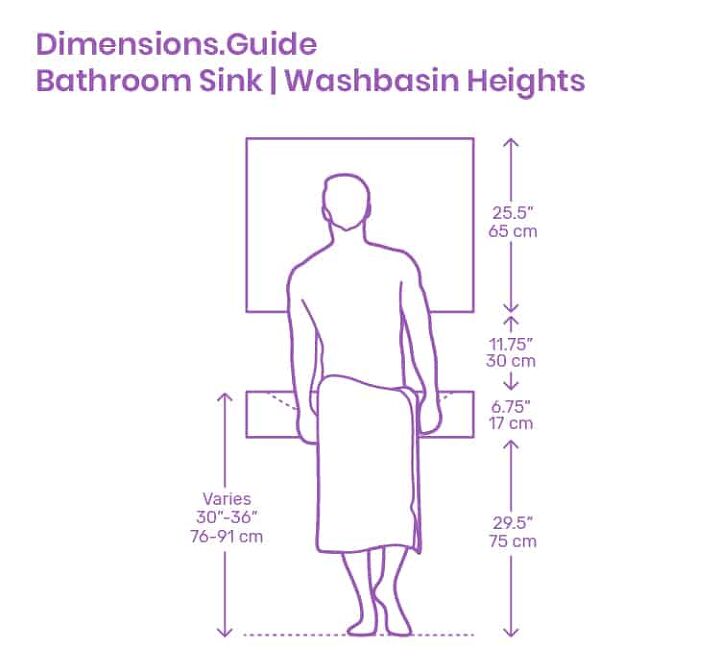 Faucet Holes and Pipes
Obviously, a sink does you no good if it has no water. Therefore, proper faucet and pipe placement is critical.
When you measure for your bathroom sink, make sure to do so based on your bathroom pipes. After all, unless you plan to reroute plumbing, this is where your sink has to go.
For your faucet, it needs to fit with the sink you choose. Most sinks have predrilled holes for either single-handled or double-handled faucets.
If your sink only has one pre-drilled hole, you need to find a single-handled faucet. If your sink has three holes, you need a faucet with separate handles for hot and cold. Some single-handled faucets come with plates to cover the extra holes so that you can use them with three-hole sinks.
For three-hole sinks with holes spaced 4 inches apart, you need a center-set faucet. If the holes are 8 to 16 inches apart, you need a widespread faucet.
If your sink doesn't have any holes, you need a faucet designed to mount on the wall or the countertop. These types of faucets usually work with vessel sinks, and some undermount sinks as well.
Do You Need to Hire Sink Installers?
Get free, zero-commitment quotes from pro contractors near you.
Other Related Guides

Stacy Randall
Stacy Randall is a wife, mother, and freelance writer from NOLA that has always had a love for DIY projects, home organization, and making spaces beautiful. Together with her husband, she has been spending the last several years lovingly renovating her grandparent's former home, making it their own and learning a lot about life along the way.
More by Stacy Randall
Published October 31st, 2020 1:04 PM