688 Views
Bathroom Exhaust Fan Making Knocking Noise? (We Have A Fix)
March 2nd, 2022 11:32 AM
Share
We're committed to finding, researching, and recommending the best products. We earn commissions from purchases you make using links in our articles. Learn more here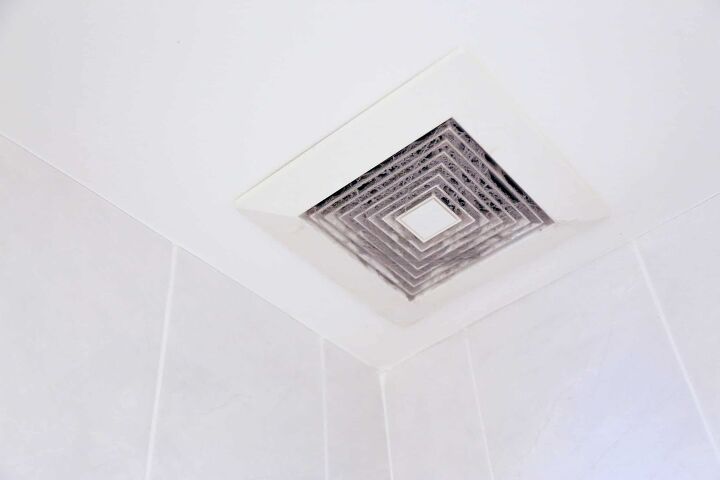 Depending on how long you've owned a house, you may remember that bathroom fans did what they were designed to do seamlessly. Now, several things could be wrong with a device designed for something so simple. A common occurrence is when a bathroom exhaust fan is making a knocking noise.
The bathroom exhaust fan makes a knocking noise because of broken fan blades, poor installation, a faulty motor, or bad lubrication. Try cleaning all of the fan parts, replace broken blades, lubricate the motor and blades, and tighten the mounting screws. If the bathroom exhaust fan making a knocking noise is over ten years old, you might need a new one.
If you've noticed your bathroom exhaust fan making a knocking noise, it's an issue that needs to be addressed. There could be a number of things causing the annoying noise, and we'll discuss the main ones that could be causing your bathroom fan to make a knocking noise. Packed with tips, tricks, and easy fixes, you'll have a quieter fan in no time.
Do You Need to Hire an Electrician?
Get free, zero-commitment quotes from pro contractors near you.
Why Is My Bathroom Exhaust Fan Making A Knocking Noise?
It's normal for a bathroom exhaust fan to make some noise. However, it should only be between 20 to 40 decibels.
To put this in perspective, a person whispering is roughly 10 decibels, and normal conversation is about 50 decibels. So, if your fan is louder than normal conversation, it's safe to say you have a problem.
If you hear a knocking sound, it's most likely due to obstructed or misaligned fan blades. This is generally true if the knocking sound is repetitive and heard as the blades are spinning. Another cause for knocking is a large piece of debris stuck on the fan.
Different parts of your exhaust fan can make a knocking noise. Narrowing down the cause of the knocking noise can help you diagnose the issue with your exhaust fan.
1. Broken Fan Blades Can Cause Bathroom Exhaust Fan To Make A Knocking Noise
One of the most obvious parts that could be causing the problem is the blades. It's normal to hear a sound as the blades spin, but if the noise is unusually loud, that means something's wrong.
If the fan is damaged or old, it might make more noise as it spins. You'll want to look for wear and tear on the blades or the motor. Plus, if a fan blade becomes dented or broken, it can affect how the other blades spin.
If there is a broken piece loose, then the other blades could be hitting it, causing a knocking noise and more damage to your exhaust fan. It's essential to regulatory check your fan and keep fan blades clean at all times.
Dirt buildup can not only cause a fan to become excessively loud, but it's also a fire hazard. Bathroom exhaust fans can cause a fire; the main trouble with these fans is that they can get a build-up of lint. It's crucial to clean all fans in your house on a regular basis to prevent this from happening.
The lint can overheat the motor and become ignited. This can be especially dangerous if the fan blades are made of plastic or wood. Bathrooms are extremely combustible in the first place; it's best to keep up routine maintenance to prevent a fire.
2. A Faulty Fan Motor
Speaking of looking at the motor, it could be responsible for the knocking noise you're hearing. This is especially true when you have an older fan in your bathroom. If you've noticed the sound started recently, it could be the motor wearing out.
It can get loud and eventually stop working as it reaches the end of its lifespan. You can look for obvious wear and tear on the motor. If you spot any, it's time to get a new one, especially if the motor is getting hot while running.
A faulty motor can also lead to overheating, which means you might have loose wires. If you think this might be the case, it's best to have a professional check things out. If you need a professional to tackle a bathroom fan issue, it's best to call a licensed electrician.
Before calling them, make sure it's worth it financially to fix the fan in the first place. It could be better to replace the entire fan if it's too damaged.
3. Your Ducts Are Too Small
Another thing that could be causing a racket in your bathroom is the ducts. When the fan is removing air from the bathroom, it's transported outside using the ductwork attached. There are ways to reduce the amount of sound coming from the ducts in your home.
The higher the air pressure, the more noise air makes while moving. This means that if you have smaller air ducts, they'll be louder than larger options. Switching to larger ducts can cost quite the pretty penny and comes with a lot of work.
What you could do is get a reducer to get rid of some of the noise. Another option is to check to see if your ducts are as straight as possible to reduce the amount of air pressure.
4. Poor Installation Can Cause Bathroom Exhaust Fan To Make A Knocking Noise
Something else that causes knocking sounds in an exhaust fan is poor installation. If the mounting wasn't done properly, the hardware could be making some noise.
In addition, if the fan has become loose, it will create an excess amount of sound. You can often tell if this is the cause if there is vibration on the ceiling and walls as well. If you gently push on the fan and see any movement, this is likely the cause of the noises.
5. Loosening Over Time
Over the years, it's only normal for things like screws and mounting hardware to loosen. Your best bet is to tighten the screws and make sure all other hardware is safely in place.
6. Your Bathroom Exhaust Fan Is Old
Nothing lasts forever, and bathroom exhaust fans have a lifespan of about 10 years. With proper maintenance, it can last for up to 15 years. However, if your bathroom exhaust fan is making knocking noises, consider its age. If it's beyond the 10 or 15-year mark, it's probably time for a new fan.
Fixing A Noisy Bathroom Exhaust Fan
You can apply easy fixes to get rid of any annoying sound your bathroom fan is making. Here are some of the most useful tips and tricks to get the job done.
Step One: Clean the Entire Unit
It doesn't get easier than this. Before running to the store to buy a new fan, consider cleaning the one you have. Dirt and grime that have built up over time can easily cause unwanted noises.
Remove the fan cover and spray it down with hot water before wiping it down. You can use warm soapy water to clean the fan blades, the motor assembly, and anything else in the area. After everything is dry, test out the fan again and see if there are any noises.
Step Two: Tighten the Mounting Screws
If the fan is installed with screws running through the fan assembly, you can tighten them from the bathroom. If the fan is installed into a ceiling joist, you may need to head to the attic to loosen the screws.
Step Three: Make Adjustments to the Fan
Since you're hearing knocking noises from the bathroom exhaust fan, you'll likely need to make some adjustments to the actual fan itself. Making these tweaks can prevent further damage that could permanently harm the fan housing unit.
Ensuring the fan is turned off, remove the fan cover and move the fan blades with your hands. Look for signs like wobbling blades or it hitting the side of the fan housing. You can remove the fan and remount it to see if that helps.
Before you're finished, check to see that everything is straight and that nothing is hitting the housing area. Give it a test run, and if the sound is gone, you've fixed the issue.
Step Four: Lubricate The Motor And Fan Blades
Using lubricating oil helps maintain the integrity of fan blades and the motor. Apply a lubricant to any parts of the exhaust fan that are metal.
One of the best ways to lubricate an exhaust fan in a bathroom is to use WD-40. This product has been trusted for years to tackle many annoying things around the house. It breaks up any leftover dirt, dust, grease, and debris.
WD-40 comes with a small sprayer that makes it easy to apply. It's affordable and tends to work better and faster than other industrial lubricants. Spin the fan while spraying it on, and be sure to wipe up anything that drips down into the motor.
Step Five: Get Larger Ducts
Ducts with larger diameters allow for better airflow. It's better to go with larger ducts than smaller ducts when installing bathroom exhaust fans. If you try to change them out at a later date, you'll be looking at a hefty price tag.
Step Six: Add A Shock Absorber
You can use rubber as a shock absorber to help dampen the bathroom exhaust fan knocking noise. Rubber is a good option since it's flexible and can take the shape of the item it protects. A type of rubber used by many DIYers is Sorbothane rubber.
Step Seven: Replace The Fan
Of course, as your last resort, you might need a new bathroom exhaust fan. If your fan is older than ten years, it's likely worth replacing it instead of repairing it.
What If My Bathroom Exhaust Fan Is Making A Knocking Noise When Off?
If your bathroom fan is making a knocking noise when it's off, it could be the wind or a neighbor if you live in an apartment complex. Of course, you can't control the wind or your neighbors, so what do you do?
1. Use Sound-Absorbing Rubber
As mentioned above, using sound absorption can help reduce unwanted noises from your bathroom fan. Place a thin strip between the fan housing and the ceiling or wall. You can purchase rubber with adhesive backing or apply it with glue.
If the noise is due to the rapper hitting on metal, place the foam strip where the flap rests when it's closed. However, make sure the flapper can still close completely, so you don't have unwanted air loss.
2. Add Weights To The Flap Disks
You can use some small washers or purchase waterproof weights on the flap disks to keep them down when it's windy. This extra weight makes it harder for the wind to pick up the flapper, so you won't hear the knocking sounds.
3. Purchase A Spring-Loaded Butterfly Damper
If the simpler fixes don't do the trick, replace your regular gravity damper with a spring-loaded butterfly damper. This type of damper features an airtight seal that won't succumb to windy situations. Unlike gravity dampers that have the common flap disks that wind can easily pick up repeatedly.
Other Sounds Your Bathroom Exhaust Fan Could Be Making
Here are the most common sounds that your bathroom fan could be making and what causes them.
Humming — This is common with fans that are near the end of their run or fans with cheap motors. You might hear a humming sound when it's time to replace the motor in the fan.
Grinding — It's not uncommon for there to be a buildup of dirt, grime, and debris on the fan. Over time, it can cause a grinding sound as the fan blades are spinning and cause permanent damage if not cleaned. Another source for a grinding sound can be the motor as it starts to die out. If this is the reason you hear this sound, you'll likely notice the blades slow down as well.
Vibration — When a bathroom exhaust fan is installed, it has to be securely mounted. When it's not, you may hear a vibrating sound from the screws and brackets that have become loose.
Rattling — Another sound you might hear if the fan has become loose is rattling. This is because the fan is now able to move inside the hole that it was mounted in.
Do You Need to Hire an Electrician?
Get free, zero-commitment quotes from pro contractors near you.
In Conclusion
A bathroom exhaust fan making a knocking noise isn't unusual, but if it's very loud, something's wrong. It could be broken fan blades, a faulty motor, or poor insulation. In some cases, your fan might need lubrication, or you need to tighten the mounting screws.
If your ducts are small, this could also cause knocking noises from your exhaust fan. It's important to clean and check your fan regularly for dirt build-up and any damage. If your fan is more than ten years old, it could be tied for a replacement. Make sure to call a professional electrician if you need someone to handle the issue for you.

Kirstin Harrington
Kirstin is a passionate writer who loves helping people learn new things when it comes to home improvement. When she's not behind a keyboard, she enjoys DIY projects, crafts, spending time with her pets, and making videos. She hopes that with all she writes, someone is finding a solution to their home improvement needs.
More by Kirstin Harrington
Published September 22nd, 2020 1:15 PM