161 Views
Are Black Garage Doors A Bad Idea?
March 21st, 2022 11:28 AM
Share
We're committed to finding, researching, and recommending the best products. We earn commissions from purchases you make using links in our articles. Learn more here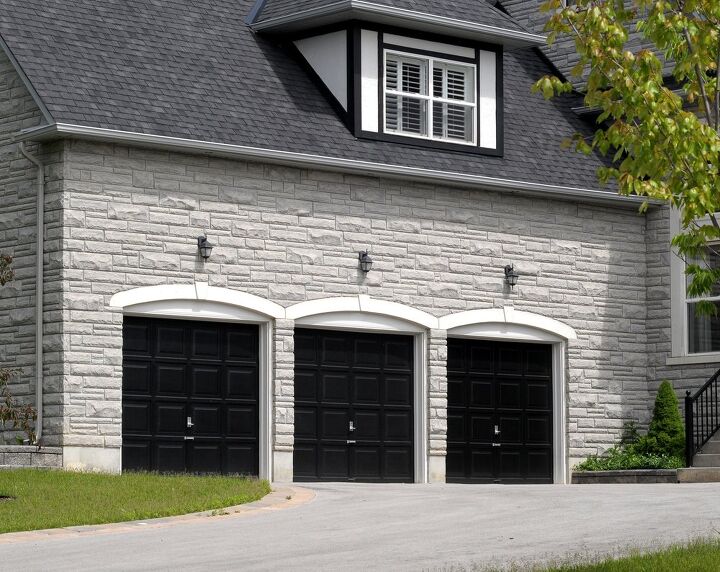 Owning a home can be fun and exciting, especially when it comes to styling the outside as an expression of your character. However, this can be done in more than one way. Instead of painting the house or trim, what if you change your garage door colors to add some pizazz? Some people even choose to have black garage doors, but is this a bad idea?
Black garage doors are a great idea if you want to add a modern touch and some value to your home. However, make sure you do not paint it black, as this can decrease your home's value if it's not done correctly. Additionally, check to see that it matches your home's exterior to enhance your home's curb appeal.
If you aren't sure whether adding black garage doors to your home is a good idea, then this is the perfect article for you. We'll talk a bit about what this entails so that you'll be able to make a clear decision. Let's get started!
What Color Should Garage Doors Be?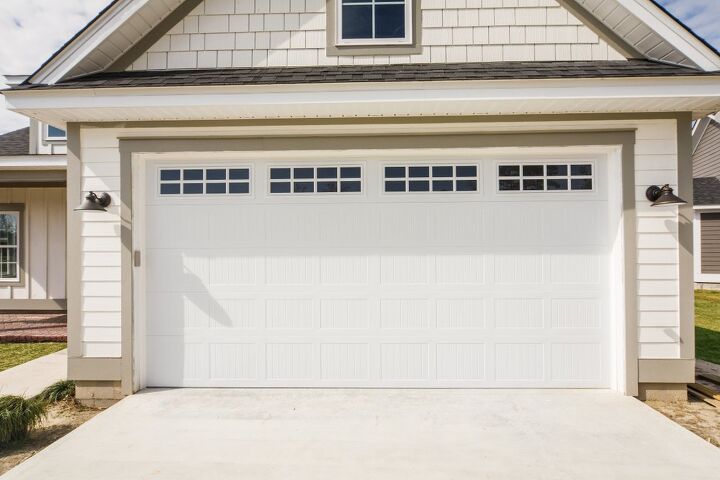 White is a wonderful color because it matches any color or style and balances out practically all home designs. White compliments the best and produces an overall crisp and uniform appearance that is attractive to the eye. This color also doesn't care about the elevation type, external finishes, or details.
The color white is a timeless classic. A bright white garage door is by far the most common color for garage doors, and it is sure to provide some curb appeal. Don't be terrified of a white garage door now that there are many more style options.
Is it a Bad Idea to Paint a Garage Door?
Painting your garage door isn't always a bad idea; it may be a great way to add a unique touch to your property. However, there are a few things to keep in mind before beginning the process.
Consider professional painting: If your door is made of wood, professional painting or refinishing is the way to go if the surface is in good shape. Also, before you start painting, think about a natural finish! The end result can be breathtaking.
Knowledge is power: If your garage door is made of metal, make sure you go into the process armed with the necessary knowledge. Also, you'll need to understand the maintenance requirements.
Check to see if your doors have a coating on them: Metal doors are usually finished with a long-lasting factory finish, such as "powder coat" or "baked enamel." If your surface is in good condition and you want to change the color, go ahead! Keep in mind that paint wears off faster than the original finish, so you'll have to do more frequent maintenance painting (typically every 5-10 years).
What is the Most Popular Color for a Garage Door?
When it comes to changing the color of your garage door, there are endless color options. Sometimes the best thing to do is consider the most popular colors and then go from there. Maybe there's a color you haven't considered yet. Below are some of the most popular colors for garage doors.
White: In general, white is a popular color for doors. It has the potential to make your garage door stand out from the rest of the garage. However, this highly depends on the rest of the house. The white garage can make it look washed out if you have a white house.
Rust: Designers and architects love adding the rust color into many homes, despite the fact that it is a pretty bold color that isn't the first choice for many homes. The color rust is a popular option for desert homes, as well as residences that showcase the popular midcentury modern style.
Light Gray: Light gray is expected to be one of the most popular garage door color choices in the last few years. It's a little darker than white, but it has a gentle appeal that can help you give your garage a unique look. If your home's outside is a lighter shade than the garage doors, this is one of the greatest color options.
Sage: Sage (and any green) has been popular in the design world for a long time. Sage is an earthy green tone that works well as an accent for those who want to connect their home to nature. It's also beautiful against a light blue house with dark blue trim. Or any sort of earthy tone to compliment it.
Dark Gray: In terms of garage door color choices, dark gray surely makes a statement. It is a popular choice if you like a darker tint and can help your property stand out more. It's great for those who are not bold enough to go for the black garage door.
Does a Black Garage Door Look Good?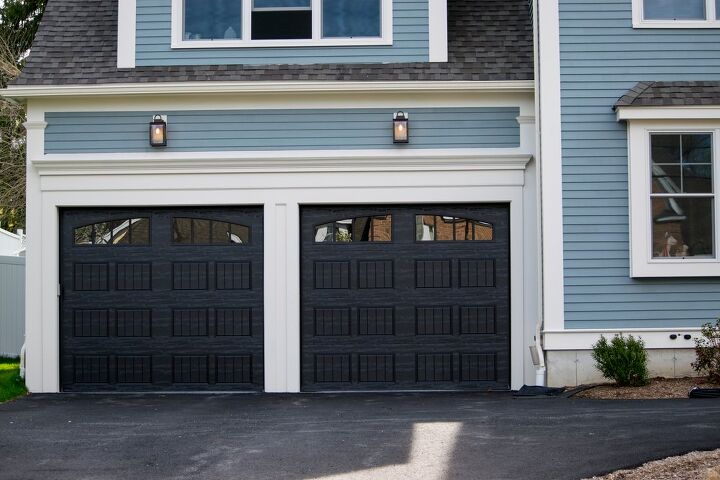 Black is an eye-catching color for a garage door. It can offer precisely the right touch to specific homes. It will make the entire house stand out, giving it a sleek and modern look. Black can look very classy on carriage house, traditional, or mid-century modern garage doors.
However, you have to be careful when choosing black, as it can also stand out like a sore thumb. Make sure that you have some black trim, even if it's just along the gutters, to help the black garage doors blend in with your home.
Are Black Garage Doors in Style?
Black garage doors, depending on the type of your home, can give it a more modern appearance. They add a contemporary, streamlined edge to your property rather than detracting from its architectural splendor.
However, changing to a black garage door isn't as easy as picking up a can of paint. It's not a great idea to paint your garage doors, mainly black, as the paint will fade and wear off very quickly.
Advantages of Black Garage Doors
Below are some of the advantages of having black garage doors on your home.
Adds a Modern Touch to Your Home
Installing a black garage door will almost immediately remedy your problem if you become weary of gazing at the front of your house because it's too simple or monotonous. It not only adds some contrast to your property but also makes the exterior look newer and more modern. So you'll be pleased with what you see the next time you walk out into the yard.
May Increase Your Property Value
Replacing your garage door is a terrific way to boost the value of your property, and replacing it with a modern black door will boost it even more! However, you have to pay attention to the outside style of your home because if your garage doors don't match the home's exterior, it won't increase the property value.
Disadvantages of Black Garage Doors
Just as there are advantages to black garage doors, there are also disadvantages which are listed below.
Curb appeal
If you install black garage doors onto your home and they happen to stand out because they don't match, this could slope the curb appeal in a negative way. In turn, a bad curb appeal can decrease the home's value.
Hot doors
Black likes to soak up the heat. This is actually true of any dark color as it absorbs more light energy than lighter colors. This can cause you or your children to burn your hands accidentally when handling the garage doors. Or, depending on the material of the door, this may warp it. So, if you're in the desert, black is not an ideal color for your doors.
Peeling Paint
Even though it's not recommended for you to paint your garage doors, some people still do this anyway. However, if you paint them black, you may be in for a world of hurt.
As we said, black soaks up light energy, which allows it to hold heat. This is true even if the black is merely paint. But what happens is that heat will melt off the adhesive additive that's in the paint, causing it to chip off and peel. Your garage doors would not last very long at all if you were to paint them black.
Can You Paint Garage Doors Black?
While it's possible to paint your garage doors black, we highly recommend that you don't. If you're absolutely set on doing this, then we advise you to hire a professional.
The material your doors are made of may not be optimal for painting. Plus, it's best to install a black garage door instead of painting an existing one. Not to mention, a brand new garage door will raise your property value.

Heather Robbins
Heather is a passionate writer who loves anything DIY. Growing up, she learned everything from home repairs to design, and wants to share her tips with you. When she's not writing, she's usually hiking or searching for her next DIY project.
More by Heather Robbins
Published March 21st, 2022 11:28 AM