41 Views
Are Bay Windows Outdated? (Find Out Now!)
November 30th, 2021 4:33 PM
Share
We're committed to finding, researching, and recommending the best products. We earn commissions from purchases you make using links in our articles. Learn more here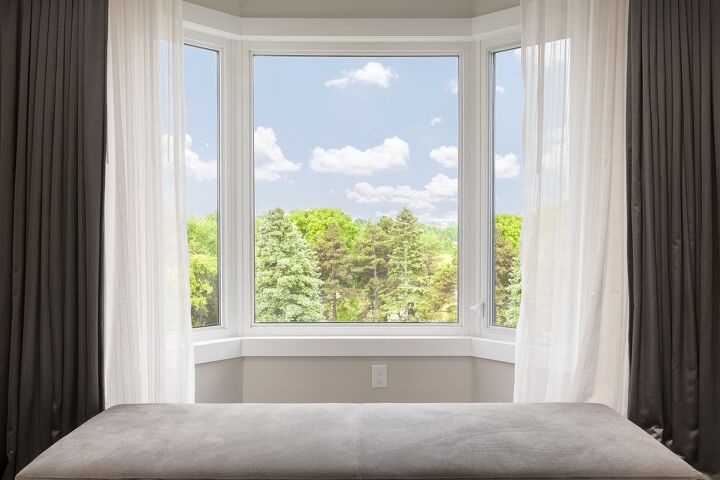 Windows, for the role that they play in the home, do not get enough recognition. Not only do they help to control the temperature of your home but they can play a pivotal role in the overall curb appeal of the home as well as the interior aesthetic.
Despite thoughts to the contrary, bay windows are still quite popular. They were a staple of split-level homes back in the 1970s and have been making a comeback in recent years. They have sharp lines, sleek curves, and accents that can really make a home stand apart from others on the block that feature traditional windows.
Do You Need a Window and Door Contractor?
Get free, zero-commitment quotes from pro contractors near you.
What are Bay Windows?
Bay windows jut out from the wall, forming a "bay". For most homes, windows traditionally are flush with the exterior wall that they are installed on. Bay windows also typically contain panels, at least three but sometimes more.
They also have angled panes, which can provide a little nook for sitting and enjoying the view, something that traditional windows do not offer. Bay windows and bow windows are compared often, though the two are different despite popular belief.
What are the Main Differences Between Bay and Bow Windows?
If you have heard the two terms used interchangeably, it might be confusing to figure them out from the other. The main difference between bay and bow windows is that a bay has three panels while bow windows typically have four or more windows all joined together.
Bay windows generally have a fixed window at the center and two small windows to either side. Bow windows can either have venting or fixed windows. The panels all come together to form a curved shape that is very similar to bay windows. That explains why they are so often mistaken for one another.
Bay windows are also quite a bit more angular, whereas bow windows are rounded from the exterior. Bay windows are actually more popular as well, particularly for home designs. The angular, sharp lines and flat planes make for an attractive focal point.
Are Bay Windows in Style?
The answer is a resounding "yes." They went out of style for a little bit during the 1980s and 1990s, but bay windows are back in style now more than ever. It is becoming more and more common to see bay windows implemented in new home construction as well.
There are more than a few reasons why people have them installed. They look great, for starters. They can provide different angles for light than traditional windows as well. That's not even mentioning the potential seating space that a bay window can provide on the interior.
Why to Install Bay Windows
If you have been thinking about adding bay windows to your home or in your new construction, you may be on the fence. But there are more than a few great reasons why you would want to do so, ranging from curb appeal to improving home value.
A Welcoming Space
There is nothing quite like the seating space offered by a bay window. With some cushions added to the sill, a bay window can make for a great sitting spot. Curling up by the window with a good book or watching your favorite show on a laptop can be a great way to spend the day.
They are quite popular in kitchens, creating a breakfast nook. They also offer quite a bit of sunlight as well, making them warm and inviting to residents and guests alike. It will likely become a favorite space in no time.
Great Exterior Views
A traditional window will have limited landscape views. But installing a bay window will not only bring in more natural light (as covered in the prior section) but offer you a better view of the outdoors due to its additional width and angles.
A bay window offers a wider viewing area than just about any other type of window. For those who live in more scenic areas, having a bay window is a great way to get a glimpse of those views from right there in your home.
Curb Appeal
While the functionality of the interior of the home matters most, there is something to be said about curb appeal. You want your home to look good when you pull into the driveway and that is precisely what a bay window can deliver.
Bay windows can improve the curb appeal of a home because it enhances the exterior appeal. Having even a singular bay window can also give it a chic, classy look that not every home has. It also shows that the owners put money and work into creating a beautiful living space.
Greater Home Value
We may not all be thinking about it at the moment, but there may come a time where selling our home is possible. When the time comes, we obviously want to get the most money that we possibly can get. And bay windows can help with that.
Removing old windows and replacing them with a bay window is a great way to boost property value. For one, you increase the physical living space by adding square footage. For two, it gives the home a special and unique touch that you won't find in every other house on the market.
In crowded markets, having a home that stands above the rest is not only a great way to make a sale, but to come in at or above your asking price. There is simply nothing from a window standpoint that can match a bay window.
Thinking of Incorporating a Bay Window Into Your Design?
If you have traditional windows and are thinking of making the switch, a bay window is a great way to go. You can add livable space and improve both the interior and exterior appeal of your home. That's not even mentioning the bigger, brighter feel that a bay window provides.
But the perfect bay window all depends on the style of your home as well as your personal tastes. The traditional three-panel look would look great for traditional homes like Victorian-style homes. But a more Gothic architecture may do will with a second story bay window oriel.
There are also seamless options if you are looking to go with something a little different from a traditional bay window. The clean lines can provide a modern flair and undistributed views of the surrounding scenery. There are even floor-to-ceiling bay windows if you really want to go for the ultimate wow factor.
Do You Need a Window and Door Contractor?
Get free, zero-commitment quotes from pro contractors near you.
Final Thoughts on Bay Windows
Whether you are working on new construction or just looking to make a change to your traditional windows, a bay window can make for a great option. There are so many benefits to adding one and they are part of a style trend that is only growing in popularity.
While it is key to make sure that you get the right style of bay window to fit your home aesthetic, you really can't go wrong. With lots of added light, more living space, and a better overall aesthetic appeal, you can't go wrong with a bay window. It is a great way to stand apart from other homes on your street in all the best ways.

Ryan Womeldorf
Ryan Womeldorf has more than a decade of experience writing. He loves to blog about construction, plumbing, and other home topics. Ryan also loves hockey and a lifelong Buffalo sports fan.
More by Ryan Womeldorf
Published October 22nd, 2021 7:59 PM