422 Views
How To Add A Second Floor To An Existing House
April 19th, 2021 3:16 PM
Share
We're committed to finding, researching, and recommending the best products. We earn commissions from purchases you make using links in our articles. Learn more here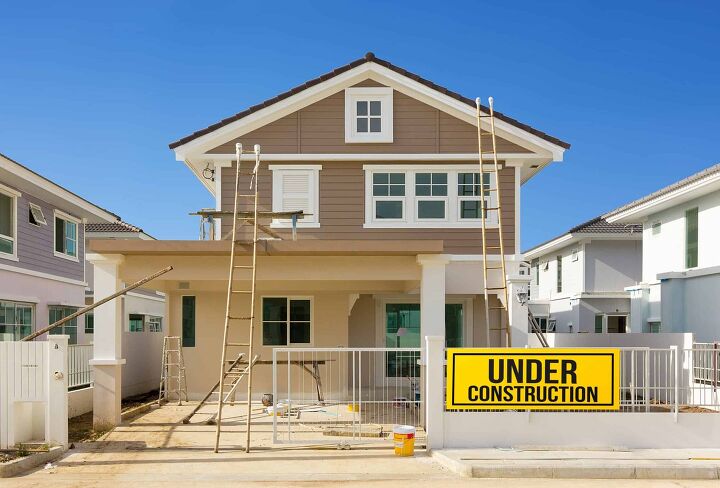 When it comes to wanting to add a second floor to an existing house, there is no other home remodeling project that can be so time-consuming, costly, and stressful. Despite the complexity, it is one of the most popular endeavors. Building up instead of out is the only choice for many people when they just do not have the room to spread out.
If you need more space in your home and your yard is already too small, you may be considering adding a second floor to your home.
Adding another floor to your home is a difficult job and it will take a long time. Even if you are an experienced DIYer or part-time construction worker, there is a lot to consider when building onto your home. There are building codes, permits, wiring, plumbing, and so much more to think about.
It is going to be a big job. But if you are willing and able, you should be able to do it successfully.
You may need some help. Even if you are a professional builder, there are things that you will need help with such as plumbing and wiring. These are things that will have to be done by a licensed professional because of codes and building laws. But there are steps you can take even without the pros to help you.
Do You Need an Addition or Remodel Contractor?
Get free, zero-commitment quotes from pro contractors near you.
Second Floor Remodeling Options
If your family has outgrown your current space, adding a second story can create extra privacy for Mom and Dad or the kids. Before you jump into this major home improvement project, you need to understand your options. How you decide to perform the remodel will depend on your foundation requirements, building regulations, and preferences.
Build from scratch. The first option you have to add a second story is to tear off your roof and build an upper level entirely from scratch. This is most likely what you'd do if you want to add a second level to a ranch-style home.
Replace your roof. In this option you'd be lifting up your roof temporarily and then replacing it after the second story has been framed.
Modular design options. This type of addition is built off sight and is brought to your home for install. This is the most cost-effective and quickest way to add a second level to your existing home.
Expand. The final option you have is to expand an upper level across a pre-existing one-story section. This is often done above porches or flat-roof garages.
Costs of Adding a Second Floor
The first thing you are going to need to do is research. Just like building a home from scratch, this project involves a lot of planning, designing, and money. The funding may be the biggest hurdle to get over so make sure you know what you are getting into before even considering the idea.
Many homeowners have said they paid about $60,000 to $80,000 for a home addition. However, others have paid well over $100,000.
Funding is why many people decide to try to do the job on their own. Nobody wants to have to pay six figures for a second-floor addition. That is almost the cost of a new home.
Luckily, since you own your home, you can likely get a home improvement loan if you have enough equity and good credit. Otherwise, you are going to have to look for loans elsewhere. You may want to consider refinancing your home.
Finding a General Contractor
Even if you are doing the job yourself, you will need a contractor to work with, at least to get you started. Find someone you know and trust or get a recommendation from someone you know. Do not just go by what you read on the internet.
This is an important job and the truth is, you will need some help, but you want to know that you are getting the best help possible. The general contractor will be able to provide the materials, labor, equipment, safety practices, and subcontractors you will need for your job.
Working with an Architect
Depending on your experience and your contractor's suggestions, you may want to meet with an architect to go over the best plans for the design. Between the architect, contractor, and yourself, you should be able to come up with the most feasible plan you can afford that will work for what you want.
In fact, you will need to consult with an architect and possibly engineers and designers to make sure your home can handle the load of another level.
Getting Those Permits
One of the best things about having a contractor is that they can get the permits and know the codes to follow. If you are doing this on your own, you will need to find out the zoning laws and learn what permits you need to get before starting the project.
Visit your local city hall or another government office to find out if building a second story is even acceptable in your city.
Preparing the Site
Since this is a big and time-consuming job, you will need to provide certain things on your property before starting. Some of these things may or may not include:
A large dumpster
Portable toilet
Security fencing
Lighting
Signs warning of construction in progress
Certain construction vehicles and tools
Lumber and other materials
Building Up the Foundation
Because you are adding a whole new structure onto the top of your home, the addition will need its own foundation just like a new home. This is where the contractor is really needed as it is their job to get an engineer to determine what needs to be done for your existing home to handle the addition.
Because most homes have a foundation that is built to sustain just the weight of your existing home, you will likely need to build onto your foundation to make it stronger. Soil tests and other calculations will need to be done to determine how to make the addition work.
Adding concrete footers and foundation walls are the most common ways to do this.
Framing the Structure
After the foundation is finished curing, you will need to frame the walls, floors, and roof. Building the skeleton of the addition over the home is most often done on-site.
But other times you can have it done off-site and then added to the home afterward. This will typically also include installing a staircase somewhere so you can get to the second level.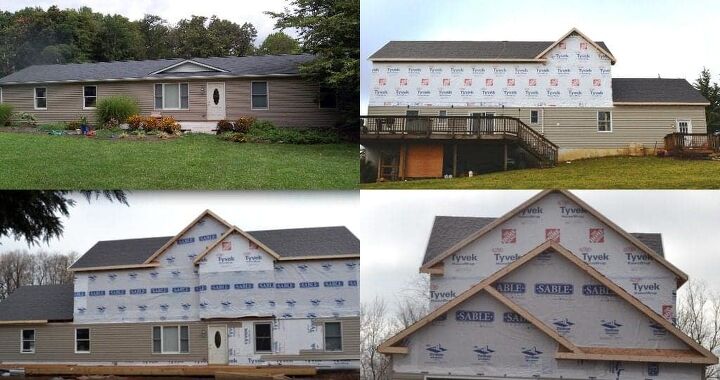 Adding on the Roofing and Sheathing
Getting those walls and the roof up quickly is a must because you do not want your inner structure to be exposed to the weather for too long. Building the paneling or board onto the frame is the most basic part of the job. The frame is already there, and the wall materials just need to be put into place.
The roof may take longer depending on whether you are using your existing roof or if you are having a whole new roof put on. If the addition is going to be the same dimensions as the lower part of the home, keeping the same roof will save a lot of time and money.
Putting in the Doors and Windows
Installing the doors and windows comes next and this is usually able to be done quickly to protect the home from the elements completely. Who you get to do your windows and doors is important but the contractor will handle that for you if you have one.
Installing the HVAC System, Plumbing, and Electrical
Unless you are licensed in all of these jobs, let the contractor find these experts for you as well. It is essential that you get the best you can afford and make sure their work is perfect because this all has to be checked and approved by an inspector before you will be able to continue.
Do make sure that the HVAC system is updated so you have enough power and ductwork to cool the second floor.
Putting in the Drywall and Insulation
Putting in the insulation is a bit more complicated than putting on the outside boards. Your insulation will have to be done by an expert and all safety precautions will need to be taken. The materials used in the insulation is typically not safe to breathe.
The drywall installation takes a bit of time because it has to be done in stages. These stages include:
Hanging the sheets of drywall
Mudding the seams with wet drywall compound
Letting the compound dry completely
Sanding down the seams
Finishing the Interior
This last step is a time of working with a variety of experts who will do your flooring and cabinets. Painters will need to do the walls and ceilings. The detailed work will come next such as hanging the doors as well as installing the molding, trim, and baseboards.
Making the Final Connections
Another time of working with various experts, the HVAC team, electricians, and plumbers will have to be worked with so they can finish up the final connections. Once again, inspectors will have to check the work before it can continue.
Do You Need an Addition or Remodel Contractor?
Get free, zero-commitment quotes from pro contractors near you.
Last But Not Least
The miscellaneous details left over are usually things that you will do on your own. However, sometimes there are issues that come up or things that have been missed. Continue to work closely with the contractor to make sure all of these details are worked out for you.
Although you may be anxious for the work to be done because you are likely staying in a hotel or with friends while it is being done, do not rush things. This is an important job and it has to be done properly.

Patricia Oelze
I am a DIYer who loves writing about anything home-related. When I am not writing, you can find me studying for my PhD in Psychology, photographing nature, and swimming at the lake with my grandkids.
More by Patricia Oelze
Published August 25th, 2020 9:30 PM